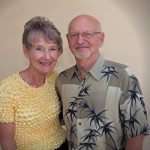 Feel like God's asleep?  Psalm 44 records a time when Israel actually prayed this . . .
"Awake!  Why are you sleeping, O Lord?" (44:33a).
Sacrilegious?  Offensive?  Does the Lord reject such from-the-heart, frustrated prayers?  Apparently not, since he included this in his Word.
We can't be sure what national calamity evoked this prayer—perhaps one of the captivities the nation suffered at the hand of foreign enemies.  Whatever it was, the nation didn't understand the disaster.  She had been faithful to the Lord.  This wasn't punishment for sin or even discipline for correction.  Whatever the case, here's the prayer . . .
We remember the Lord's past power for his people.
We have heard with our ears, O God; our fathers have told us what you did in their days, in days long ago.  With your hand you drove out the nations and planted our fathers; you crushed the peoples and made our fathers flourish.  It was not by their sword that they won the land, nor did their arm bring them victory; it was your right hand, your arm, and the light of your face, for you loved them.  You are my King and my God, who decrees victories for Jacob.  Through you we push back our enemies; through your name we trample our foes.  I do not trust in my bow, my sword does not bring me victory;  but you give us victory over our enemies, you put our adversaries to shame.  In God we make our boast all day long, and we will praise your name forever. Selah (44:1-8).
When I read Scripture, I'm confronted with deliverance from Egypt, opening of the Red Sea, manna in the wilderness, little David sling-shotting Goliath to death and Jesus rising from the dead.  Those are the works of our God!  We celebrate them in song and praise him in worship.
But now we're stricken and shamed.
But now you have rejected and humbled us; you no longer go out with our armies.  You made us retreat before the enemy, and our adversaries have plundered us.  You gave us up to be devoured like sheep and have scattered us among the nations.  You sold your people for a pittance, gaining nothing from their sale.  You have made us a reproach to our neighbors, the scorn and derision of those around us.  You have made us a byword among the nations; the peoples shake their heads at us.  My disgrace is before me all day long, and my face is covered with shame  at the taunts of those who reproach and revile me, because of the enemy, who is bent on revenge (44:9-16).
Who can read the Old Testament and not be taken aback at the anguish of God's people?  In the days of the judges " . . . the hand of Midian overpowered Israel, and because of Midian the people of Israel made for themselves the dens that are in the mountains . . . " (Judges 6:2).  And in the New Testament we're transfixed by the cruel, unjust crucifixion of Jesus at the hands of his self-righteous enemies.  In fact, the crucifixion leaps from the all too familiar words of the last half of the text above.
From the Scriptures I remember the Lord's powerful past works.  Then I think of my pain and the suffering of so many of God's people all over the world.  And I find myself with the psalmist asking . . .
Why, O Lord, do you sleep?
All this happened to us, though we had not forgotten you or been false to your covenant.  Our hearts had not turned back; our feet had not strayed from your path.  But you crushed us and made us a haunt for jackals and covered us over with deep darkness.  If we had forgotten the name of our God or spread out our hands to a foreign god,  would not God have discovered it, since he knows the secrets of the heart?  Yet for your sake we face death all day long; we are considered as sheep to be slaughtered. Awake, O Lord! Why do you sleep? Rouse yourself! Do not reject us forever.  Why do you hide your face and forget our misery and oppression?  We are brought down to the dust; our bodies cling to the ground.  Rise up and help us; redeem us because of your unfailing love (44:17-26).
The people aren't claiming perfection; they're protesting that they've been true to the Lord's covenant.  They've walked in the direction of obedience and offered the prescribed sacrifices for their disobedience.  So, why?  "Why do you sleep?  Why do you hide your face and forget our misery and oppression?  Wake up, O Lord!"
We know he doesn't sleep.  "Indeed, he who watches over Israel will neither slumber nor sleep" (Psalm 121:4).  But, oh, those terrible times when it seems as if he is!  And, with the old Israel, we ask the "why?"
For the Lord's sake.
There in the bold-face font in the text above is the not-so-satisfying answer:  it's for the Lord's sake.  The apostle Paul quoted these words in Romans 8:36.  I see the sense of it all there.  Paul is an apostle.  He suffers to advance the gospel for the Lord's sake.
But I'm no apostle, just an ordinary guy.  In what way can my being stricken be for the Lord's sake?  I don't know.  And even though Israel prayed these words in Psalm 44, I doubt they fully understood either.  At best, in "for your sake", they expressed their faith in their Lord without understanding.
And so the psalm ends with deliverance.  The people end by begging to be redeemed "because of your unfailing love."  This is precisely what Paul professes . . .
As it is written: "For your sake we face death all day long;
we are considered as sheep to be slaughtered."
No, in all these things we are more than conquerors
through him who loved us. 
For I am convinced that neither death nor life,
neither angels nor demons, neither the present nor the future,
nor any powers,  neither height nor depth,
nor anything else in all creation,
will be able to separate us
from the love of God that is in Christ Jesus our Lord.
(Romans 8:36-39)
We may face death all day long.  We may be thought of as nothing but animals.  We may not understand how our hardships can be for the Lord's sake.  But his Word claims they are.  And we are called to boldly trust our Lord from whose love nothing can ever separate us.
Remember?  In his time he woke up and stilled the storm!