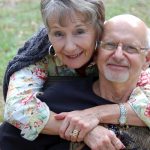 Can you bear reading about me again?  I write about me because writing helps crystallize my thinking about what I'm suffering.  So it's for me.  I do it, too, because I pray it encourages you in your painful place, whether now or some tomorrow.  So it's for you.

For months I've struggled drawing near to God.  Not that I've disbelieved; I just kind of kept my distance.  Like a master-hurt puppy who shies away.  After all, God is sovereign.  So he sent or at least allowed this primary lateral sclerosis.  Shying-away may be sin, or at least foolishness.  But, that's how I felt.
I've asked, "Why this, Lord?"  Of course, he answered long before I asked . . .   So I would learn better to rely, not on myself, but on him who raises the dead (2 Corinthians 1:9).  So I could comfort others with the comfort I receive (2 Corinthians 1:8).  So I would grow in endurance and character and hope in God (Romans 5:3-5).  So I might know Christ in the fellowship of suffering (Philippians 3:10).
I didn't like his answers.  I wanted (and still want) healing.  I want to walk.  I want all my broken parts to work right.  And I pray that way.  My brother-in-law, through his weekly phone calls (and at many other times), prays that way for me.  (Excuse him.  He's a Pentecostal and believes God still heals.  So do I.)
I know what I'm asking.  PLS has no cure; it just progressively worsens.  But nothing is impossible with God, right (Luke 1:37)?  So in my shy-puppy position, I've prayed.  And I've stubbornly thought, "If this is supposed to teach me better reliance on the Lord, if it's aimed at improving my endurance and character and hope, if this is geared at drawing me into closer fellowship with Christ, it ain't working.  (Well, so far as I can tell.)
Recently, through my study of John Piper's A Peculiar Glory (which I'm summarizing on my blog posts),  I've been reminded of what I've believed for a lifetime–the Scriptures are the very words of God.  They're truth.  Reality.  The only sure objective ground on which I stand.  Everything that doesn't measure up to them totters and falls.  So lately I've grasped Reality more tightly again.
And I've started again to encounter the Healer.  With open arms.  With a welcoming heart.  I'm learning to accept that, until he heals me (in the land of the living or in the resurrection), this is his chosen path for me.  (Though not my choice.)  With my mind I'm standing on his word.  With my heart I'm hungry for his presence.
I'm not saying (to follow the shy-puppy theme) I'm racing excitedly for the door when I hear Jesus come home.  But I am kinda nudging at his hand.
Shocking that a pastor for 44 years has such struggles?  Well, I've learned (as I've written before) there's a Grand-Canyon-wide difference between trusting God when one is young and healthy and busy in significant ministry and trusting him when one is old and weak and largely "on the shelf".  How easily (and naively) I preached from Philippians 3:8-11 . . .
"What is more, I consider everything a loss compared to the surpassing greatness of knowing Christ Jesus my Lord, for whose sake I have lost all things. I consider them rubbish, that I may gain Christ and be found in him, not having a righteousness of my own that comes from the law, but that which is through faith in Christ– the righteousness that comes from God and is by faith. I want to know Christ and the power of his resurrection and the fellowship of sharing in his sufferings, becoming like him in his death, and so, somehow, to attain to the resurrection from the dead."
"I want to know Christ . . . and the fellowship of sharing in his sufferings."  My sufferings are world's apart from his.  Yet in mine, I've been at times a spiritual wimp.  So much more maturing needed!
But, as I wrote above, I'm a puppy nudging at his hand.  A skeptic might argue, "If you believe the Lord sent or allowed your suffering, you're an idiot for cozying up to him for comfort!  Typical Christian craziness."
No, my skeptic friend.  God means it for good.  I admit I can't see the good.  And I know it sounds foolish. He can see better than I can!  Besides,  to whom else can I go?  Curse God and die means only death (the eternal kind).  No!  The day will come (call me crazy) when this suffering will seem "light and momentary"–because I'll be dancing (something I never could do!)
So while I pray and wait for healing, I'm learning to be happy with the Healer . . .