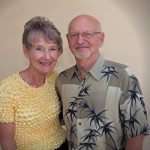 An odd situation.  After 44 years of church pastoring, I find myself church-less.  Mostly it's disability that keeps me home.  Gives me an  outsider's perspective.  I understand, for example, a person who thinks the church offers nothing special for him will likely not take the trouble of getting up and going.
Don't misunderstand. I still believe everything the Bible teaches about the church.  I still care about the church's mission in the world.  At the same time, I think I recognize  better the unchurched person's view.
That gave the following article (from "Religion News Service") greater impact.  While I'm generally suspicious of polls, there's no explaining away the bleakness of this report . . .
God? Meaning of life?
Many Americans don't seek them in church
By Cathy Lynn Grossman
Shavon Gardner, 17, prays as she sings with the Redeemed Christian Church of God youth choir at Redemption Camp in Floyd, Texas, on June 17, 2009. Photo courtesy of REUTERS/Jessica Rinaldi

(RNS) The "seekers" have left the church — if they ever came.
LifeWay Research has taken a close look at what might draw them in, zeroing in on people who say they have not attended a religious service in the past six months except for special events or holidays.
Worship? Not particularly interested, 2 in 3 people told the evangelical research firm in a survey released Tuesday (June 28).
Talk about God? Not so much, said 3 in 4 of the 2,000 "unchurched" people in the survey –including 57 percent who identified as Christians.
"Are a lot of Americans on a conscious journey to learn who Jesus Christ is? I don't think so," said Scott McConnell, executive director of LifeWay, which is based in Nashville, Tenn.
The survey was conducted May 23-June 1. The margin of error is plus or minus 2.7 percentage points.
The findings suggest most folks could be lured to church through events where faith is not explicit: community causes, entertainment and sports.
Even that old "seeker" standby — the search for meaning — doesn't cut it for many who a decade ago might have read Rick Warren's mega-selling handbook, "The Purpose Driven Life."
Although 57 percent of those surveyed said finding "their deeper purpose" is "a major priority," 31 percent disagreed at least somewhat and 12 percent were unsure.
That finding can be read two ways. Either folks are feeling secure in their salvation, even without church, or "most unchurched people don't particularly care," said McConnell in an interview.
Fully 70 percent of people who do not attend religious services agreed that "there is an ultimate purpose and plan for every person's life."
But whose plan is the unanswered question.
LifeWay deliberately didn't mention God in asking about "plan" and "purpose," McConnell explained, because it wanted to assess whether people had "a framework of wanting to make better, or the best, choices for life."
If they already view life in terms of plans and goals, it's easier to talk about the Christian faith. Evangelizing is like marketing a product — you need a value that matters to the customer, McConnell said.
The survey suggested that while evangelical churchgoers say heaven is the main benefit of their Christian faith, "that value proposition is not a product the unchurched are looking to buy," McConnell said.
The survey found that 43 percent said they never wonder if they'll go to heaven when they die and 20 percent can't recall the last time they thought about it.
According to a new online survey of 2,000 unchurched Americans, LifeWay Research found few wonder, at least on a regular basis, if they'll go to heaven when they die. Photo courtesy of LifeWay Research
The results were not entirely bleak, however: Nearly 62 percent would come for a meeting at church on neighborhood safety.
Offering a venue to "express compassion" can be a top draw for churches, Rick Richardson, professor of evangelism and leadership at Wheaton College, said in a press release. He is a research fellow for the Billy Graham Center for Evangelism, which sponsored the survey.
Other ways people could be inspired to visit were for events such as concerts (51 percent), sports or exercise programs (46 percent) or a neighborhood get-together (45 percent.)
Most (51 percent) said a personal invitation from a friend or family member could draw them to church. And many are willing to at least listen to the benefits of being a Christian. Only 11 percent said they'd change the subject if religion came up in conversation.
But only about 1 in 5 would accept if that invitation came from a church member knocking at their door, a TV commercial, postcard or Facebook ad.
McConnell said bringing people into church is "a different kind of conversation. It's like cajoling them to take a blind date with someone you want to spend your life and your eternity with. We need to say take it one day at a time: 'Let's introduce you to Jesus and see what you think.'"
Cathy Lynn Grossman specializes in stories drawn from research and statistics on religion, spirituality and ethics. She also writes frequently on biomedical ethics and end-of-life-issues.
* * *
Two thoughts from this dreary report come to mind.
One, this is a spiritual battle, not a creative-techniques one.  Of course, we need tactics.  And we probably have to think "outside the box."  But giving out free Cokes at red lights won't bring anyone to repentance and faith in Christ.  Nor will a coffee bar in the church lobby.
Two, we have to pray.  When the apostle Paul reached the end of his spiritual warfare instructions, he urged the church, "Do all this in prayer, asking for God's help. Pray on every occasion, as the Spirit leads. For this reason keep alert and never give up; pray always for all God's people.  And pray also for me, that God will give me a message when I am ready to speak, so that I may speak boldly and make known the gospel's secret.  For the sake of this gospel I am an ambassador, though now I am in prison. Pray that I may be bold in speaking about the gospel as I should" (Ephesians 6:18-20, TEV).
 What might God the Holy Spirit do in Jesus' name,
if we faithfully, persistently set aside time in Sunday Worship
for the church to pray for the community's unchurched?
Will we find out?