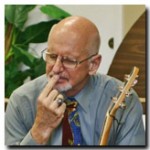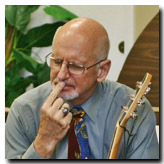 "Enjoying one good year is better than suffering two bad ones."
So said my wife while driving me to a doctor's appointment.  We were talking about getting a prescription with possible long-term, unpleasant side effects.
I was somewhat taken aback by her remark.  "I was hoping to live longer than a year."
"I know," she said.  "I was just using that as an example."
"Oh."  (Not feeling too encouraged.)
I have primary lateral sclerosis, which as you know if you're a regular reader (and more than tired of hearing about my health issues), isn't fatal, just chronic without a cure.
I've admitted before that this whole thing has been a major test of my faith.  I was raised in a church that believes the gifts of the Spirit are still given today.  I still believe that.  So I've prayed much for healing, as have others for me.  It hasn't come.  So I limp around, struggling with the worsening limitations the disease lays on me.
I understand that healing isn't the norm, though the Lord still does heal.  Disease and death are in the world because sin is in the world.  Victory over death comes in the last-day resurrection.   Nevertheless, norm or not, we pray for healing—and trust the Lord's grace to be sufficient if he doesn't give it.
Still, it tests my faith.  Sometimes makes me question my faith.  And never am I able to obey James 1:2-4 . . .
Count it all joy, my brothers,
when you meet trials of various kinds,
for you know that the testing of your faith produces steadfastness.
And let steadfastness have its full effect,
that you may be perfect and complete, lacking in nothing.
COUNT IT ALL JOY?  Most of the time I'm working on a little smile!  I'm not even in the ballpark for counting it joy!  If this is a faith test, I think I'll be good to get a D.
In his book, Everlasting Is the Past, Walter Wangerin tells of his college years when he feared his faith had left him.  Worse, that he believed the faith, but he'd never made it his own.  He writes . . .
Was this my own true faith?  My own fear and loving and trusting in the Almighty Father?  Not really.  It was the faith, that which I could deliver word for word.  A static thing.  I had learned about the commandments and the creed of the Church.  I believed they were true—as I believed the stars are true.  But I did not cling to this creed.  Rather, I wore it like a badge . . . If, however, you asked me then if I had faith, I would brightly answer, "I do." (p. 17).
Wangerin's confession confronted me.  I had served as a pastor 44 years.  Prayed, studied God's Word, preached it, taught it, counseled with it, loved it, believed it (so I thought).  Wangerin's words, though, made me ask, "Has my faith been a static thing? Did I wear Bible doctrines like a badge without clinging to them?"  I always supposed that in every congregation (including those I pastored) sat some who said the right words but in their hearts really didn't know Jesus.  Had I been one of them?
Finally, I decided no.  No I wasn't one of them.  My faith had not been a static thing.  I didn't wear the faith like a badge; I really did cling to the truth.  Why, then, from time to time now did I struggle so much?  I came up with two reasons.
One, I no longer pastor.  That means I don't spend my waking hours in the Word, in prayer, in meeting people to encourage them in the faith.  When I lay in bed at night, I don't think about the coming Sunday's sermon, how I might better make a point or illustration.  For 44 years I was like boiling water in a cup with a teabag steeping away, turning the water into tea.  Now, for the most part, I am just water in a cup.
One of my friends at church used to call me a professional Christian.  A joke, I think.  I got paid to be a good believer.  The money didn't make me want to be a leader others could follow.  It was Jesus who did it, plus my desire to be used for the good of others.  But no longer a "professional", my "normal" Christian life was suddenly without much structure.  Besides, it's always easier to have faith for somebody else.  Which brings me to the second reason for my struggle . . .
Two, this was my trial and it was serious.  Not that I hadn't endured some tough times before, both in ministry and family life.  But this was (is) different.  It's my body that's (to use Paul's graphic phrase) "wasting away" (2 Corinthians 4:16).  Not a pretty picture.  Reminds me of "the walking dead."  This body, that I've tried to take care of by eating relatively well, by all sorts of exercise and working out, is eroding—like a wave-pounded beach.
And, in this life, it will never be better (short of a miracle).  What encouraged me through several surgeries was the expectation that once this is over I'll be better.  Not this time.  That's a punch to the stomach of my faith.  Oh, I know, a new body in the resurrection.  And that does help.  But the thought of never running again with my grand-kids on this earth leaves me very sad.
I cling to Jesus.  Wangerin confessed, "I did not cling to this creed."  Well, I am clinging.  I could cite numerous Scriptures I'm clinging to, like . . .
" . . . fear not, for I am with you;
be not dismayed for I am your God;
I will strengthen you, I will help you,
I will uphold you with my righteous right hand."
(Isaiah 41:10).
But, bottom line, I'm clinging to Jesus.  I don't understand (though I want to).  And, yes, there are days every so often when my clinging fingers slip and he holds me.  But, my faith, though a bit battered, is my own true faith. And I'm clinging to the one who loves me and gave himself for me.
And, as long as I do that, it is well with my soul.