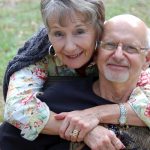 The new king settled into his palace.   Peace reigned in Israel.  David and his devoted armies had defeated the Philistines.  " . . .the LORD  had given [David] rest from all his enemies around him" (2 Samuel 7:1).  So, the king wanted to build a house for his LORD, a place to enshrine the ark of God.
But the prophet Nathan received a word that night.  The next day he told the king.  "The LORD declares to you that the LORD will make you a house.  When your days are fulfilled and you lie down with your ancestors, I will raise up your offspring after you . . . and I will establish his kingdom.  He shall build a house for my name, and I will establish the throne of his kingdom forever" (2 Samuel 7:11b,12).
David  humbly accepted the prophet's word and gratefully praised the LORD for his greatness and goodness  to Israel.
The promise stirred David's heart.  His son would build a house for the Lord.  And a dynasty was born.  Israel would always have a son of David on the throne.  But might "I will establish the throne of kingdom forever" mean more?
After Solomon, civil war split Israel.  The twin nations repeatedly broke God's covenant.  A Davidic king reigned in Jerusalem.  But the kingdom was crumbling under the weight of sin and God's judgment.
Three hundreds years after David, amidst the sin-ravaged kingdom, prophets told of a coming Davidic king:  "See, a king will reign in righteousness and rulers will rule with justice" (Isaiah 32:1) . . ."Rejoice greatly, O Daughter of Zion! Shout, Daughter of Jerusalem! See, your king comes to you, righteous and having salvation, gentle and riding on a donkey, on a colt, the foal of a donkey. I will take away the chariots from Ephraim and the war-horses from Jerusalem, and the battle bow will be broken. He will proclaim peace to the nations. His rule will extend from sea to sea and from the River to the ends of the earth. " (Zechariah 9:9,10) . . . "But you, O Bethlehem of Ephrathah, who are one of the little clans of Judah, from you shall come forth for me one who is to rule in Israel, whose origin is from of old, from ancient days" (Micah 5:2).
Words of hope gleaming in the darkness.  Mysterious words:  "He will proclaim peace to the nations" . . . "His rule will extend to the ends of the earth".  Israel watched and waited.  For the king who would build God's "house", the son to once again rule from David's throne with righteousness and peace.  And maybe his rule would extend to the earth's ends!
* * *
Only one thing frightened King Herod—an enemy usurping his throne.  So when he heard news that wise men from the east arrived in Jerusalem looking for " . . . the child who has been born king of the Jews", his fears were fueled.  "Where is the Messiah to be born?" he asked his priests.  "Bethlehem, according to Micah 5:2."  "Tell me when you find him, so I may go worship him too," he told the wise men.
That evening, the star that had led the magi from the East, reappeared over the place where the child was. When " . . . the wise men saw the child with Mary his mother . . . they knelt down and paid him homage.  Then, opening their treasure chests, they offered him gifts of gold, frankincense and myrrh" (Matthew 2:11). 
They didn't return to Herod. When he realized he'd been tricked, he was enraged.  If he couldn't kill the one child, he'd kill every child under two in Bethlehem.
"Then was fulfilled what had been spoken through the prophet Jeremiah:  'A voice was heard in Ramah, wailing and loud lamentation, Rachel weeping for her children; she refused to be consoled, because they are no more'" (Matthew 2:17).
Was this horrific violence just the ravings of a mad king?  Or did Herod's murderous tirade portent how the world would receive this child-king?  For now, he was safe.  The Lord's angel had appeared to Joseph in a dream,  "Get up, take the child and his mother, and flee to Egypt, and remain there until I tell you . . . " (Matthew 2:13).
Was this child to reign on David's throne over a whole-earth kingdom?
Would violent rejection plague him wherever he went?
Did the prophet Nathan (or the Lord) mean this son of David would reign forever?
Were the wise men's gifts just rich presents or did they mean more than even they understood?  Did gold represent the child's kingship.  Did frankincense symbolize his priesthood of intercession for his sinful people.  Did myrrh prefigure his terrible atoning death?
Were the magi's words prophetic beyond their understanding.
And did these foreigners, these men from the East, symbolize the day when all of heaven will sing to this child, "You are worthy to take the scroll and to open its seals, because you were slain, and with your blood you purchased men for God from every tribe and language and people and nation.  You have made them to be a kingdom and priests to serve our God, and they will reign on the earth" (Revelation 5:9,10)?