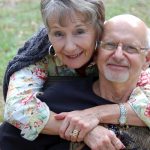 When our family celebrated Easter, all the women contributed food.  Which meant our dishes were overflowing.  I think of that when I read Ephesians 1—so much blessing, it overflows.  Taste after taste of delicious gospel truth.  Hard not to make a meal of each sentence.
"Praise be to the God and Father of our Lord Jesus Christ, who has blessed us in the heavenly realms with every spiritual blessing in Christ" (Ephesians 1:3).
Paul begins by nearly exploding with praise—long praise (one sentence, verses 3-14, 202 words in the Greek text!)  "Worthy of praise (meaning in context of the Greek eulogaytos) is the God and Father of our Lord Jesus Christ".
What has God done to deserve such praise?  God "has blessed us (graciously lavished his favor on us—meaning of euloyaytos in context) with every spiritual blessing (a blessing coming from the Holy Spirit) in the heavenly places (literally, in the "heavenlies").
According to Sam Storms (pastor, Bridgeway Church, Oklahoma City), "'the heavenlies' are where Christ is, where we are (in spiritual union with him), where demons are, and where God is revealed! In other words, 'heavenly realms' does not refer to a physical location but to a spiritual reality, God's world, in which believers have a share and which evil forces still seek to attack . . . It is a way of saying that this world is not the only reality".  From that spiritual reality, Christ came to open the way for believers to be blessed by God with every spiritual blessing in Christ.
Note:  These spiritual blessings in the heavenlies that come to us are "in Christ".  Just as God is not whomever we make him to be but the God who is "Father of our Lord Jesus Christ," so God's blessings can be found in only one source—Messiah Jesus.
 Nor are "spiritual blessings" vague or merely emotional.  Paul lists them, beginning with what theologians call "election" . . .
"For he chose us in him before the creation of the world to be holy and blameless in his sight" (Ephesians 1:4a).
 God chose (Greek, eklego) us in Christ before the creation (Greek, katabolays—"foundation") of the world "that we should be holy and blameless in his sight". 
Since God chose us before creation, no created thing or person had any bearing on God's choice.  No merit, no circumstances affected God's choice. He  didn't choose those who now believe because we merit it or because circumstances demand it.  Storms writes, "We must still believe in Jesus, but our belief is itself the historical and experiential fruit or effect of God's pre-temporal elective decree (see Eph. 2:8). The religious implications of this are profound, for either a person thanks himself for his faith, because it resulted in his election, or he thanks God for his election, because it resulted in his faith."
God's choice came with purpose: "that we would be holy and blameless in his sight." 
Paul may be thinking of the present as the Spirit progressively sanctifies.  But Ephesians 5:25b-27 suggests his purpose will ultimately be fulfilled at the end of the age . . .
 "Christ loved the church and gave himself up for her to make her holy, cleansing her by the washing with water through the word, and to present her to himself as a radiant church, without stain or wrinkle or any other blemish, but holy and blameless."
"In love he predestined us to be adopted as his sons through Jesus Christ, in accordance with his pleasure and will—" (Ephesians 1:4b,5).
Having chosen us believers before the world's creation, God destined us "to be adopted as his sons through Jesus Christ". "Adopted"—a powerful, emotional, life-changing experience.  And God adopted us "[i]n love.  Adoption is especially staggering given that by nature we were "sons of disobedience" and "children of wrath" (Ephesians 2:2,3).
"Yet to all who received him, to those who believed in his name, he gave the right to become children of God–children born not of natural descent, nor of human decision or a husband's will, but born of God" (John 1:12,13).
 Paul explains that God not only desired ("will") to adopt us, but it was "his good pleasure".  As a father is delighted to bring a hurting child into his family, so God was delighted to destine us for adoption.
 " . . .  to the praise of his glorious grace, which he has freely given us in the One he loves" (Ephesians 1:6).
Here stands God's ultimate purpose in choosing us sinners to be made his holy and blameless children:  that the glory of his grace might be revealed, and revealed, praised.
Note: God freely gave the glory of his grace "in the One he loves"—that is, in Christ.
Just last night we watched a TV show where a wayward young lady was convinced she was going to burn in hell for the wrong she'd done.  The minister's wife in the story assured her, "God's not like that.  He'll forgive you."  But God is only "not like that" in Christ.  We can't trust God to forgive us, only God in Christ.
* * *
So we believers  sit at a feast.  A table filled to overflowing with every blessing of the Spirit in Christ.  Chosen by God before anything else existed, so that corrupting, killing sin would be undone by holiness and blamelessness.  Can we wrap our minds around that?  Before we were born God chose us.  Did he look down a mental list of names and check us off?  (By the way, our faith in Christ Jesus is proof of our election.)
Then he was delighted to predestine us for adoption as his children (not everybody's a child of God).  God's not only God, but our Father.  Among other things that means we're joint-heirs with Jesus of an eternal inheritance in a new creation with new immortal bodies.
Illness now leaves me feeling impoverished, a beggar without a crust of bread.
But when I read Ephesians1:3-6, I realize God has welcomed me into a table heavy with a lavish feast fit for a child of the King.