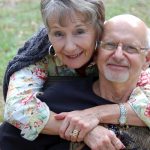 In what kind of soil does faith grow best and love increase most?
The question isn't academic.  For years I've endured my life's toughest faith-test.  Some days my faith feels as weak as my body.  I need growing faith.  Immersed in my own needs, my love for others shrinks.  I need increasing love.
After greeting the Thessalonians  (1:1,2—http://theoldpreacher.com/grace-and-peace/), Paul gives thanks to God for them . . .
We ought always to give thanks to God for you, brothers, as is right, because your faith is growing abundantly, and the love of every one of you for one another is increasing.  Therefore we ourselves boast about you in the churches of God for your steadfastness and faith in all your persecutions and in the afflictions that you are enduring. (2 Thessalonians 1:3,4)
"Ought" (Greek, ophaylo) makes Paul's thanks seem obligatory.  "Right" (Greek, axios—worthy, fit, in keeping with what should be done) reminds us thanks is a moral obligation before God for what he's done.  Thus, even though thanks is an "ought", it's in keeping with how we should respond to God for his goodness.  These brothers believed the Lord's message because it came empowered by God the Holy Spirit (1 Thessalonians 1:5).  Consequently, they had "turned to God from idols to serve the living and true God, and to wait for his Son from heaven, whom he raised from the dead, Jesus who delivers us from the wrath to come" (1 Thessalonians 1:9b,10).
Are you a believer?  Thank God!
Paul, however, thanks God for the Thessalonians' "faith [that] is growing abundantly" and "love . . . for one another [that] is increasing".
 Abundantly Growing Faith.
The concept of  growing faith raises a question:  How to measure faith?  Jesus did when he spoke of faith's size.  " . . . if you have faith as small as a mustard seed, you can say to this mountain, 'Move from here to there' and it will move. Nothing will be impossible for you" (Matthew 17:21).   Again, "When Jesus heard [the man's reply], he was astonished and said to those following him, "'I tell you the truth, I have not found anyone in Israel with such great faith'" (Matthew 8:10).  Faith, therefore, can be "small" or "great"—and still accomplish astounding results.
On the other hand, Hebrews 11:36-38 commends the faith of those who suffered.  No sensational miracles there!  Or were there?
In any case, faith is challenging to measure.  But one thing is clearly true:  abundantly growing faith is a virtue for which to always thank God.
Increasing Love.
As faith is God's gift (Ephesians 2:8,9), so love is the Spirit's fruit (Galatians 5:22,23).  Love is also the expression of faith.  "For in Christ Jesus neither circumcision nor uncircumcision has any value. The only thing that counts is faith expressing itself through love" (Galatians 5:6).  This is why Paul thanks God for the Thessalonians' increasing mutual love:  it is the Spirit's fruit and the expression of God-given faith.  We should also note Paul speaks of love, not as a feeling, but an action.  It's an observable virtue seen in how the believers treat one another.

Growing & Increasing.
Is God the only actor in growing faith and increasing love?  Do we play no role?  Listen again to Paul:  "Therefore [because of your growing faith and increasing love] we  ourselves boast about you in the churches of God for your steadfastness and faith in all your persecutions and in the afflictions that you are enduring."  Paul doesn't say, "We boast about God", but "We boast about you for your steadfastness of faith . . . " Implication:  Christians have a part to play in growing faith and increasing love.  The part to which Paul refers here may be surprising.

The Soil.
I'd prefer my faith  growing and love increasing sitting comfortably at my desk prayerfully pouring over God's Word.  Probably that would have been the Thessalonians' preference too.  But see the soil where the Thessalonians' faith grew and love increased:  "we ourselves boast about you . . . for your steadfastness and faith in all your persecutions and afflictions that you are enduring." 
What kind of faith were they growing in?  Steadfast.  The Greek is hupomonay—used of steadfast adherence to a course of action in spite of difficulties and testings; "patient endurance, perseverance."  Jews who disbelieved in Jesus Messiah abused the believing Jews (and probably the believing Gentile "dogs" too).  But the believers clung to Jesus in faith.  They chose to keep trusting him no matter the cost.  So like weathered trees high up on the tree-line, their faith grew tough.  There's a world of difference between faith grown only in the soil of Scripture's pages and faith grown in the soil of affliction!
A Dilemma.
In affliction I feel faithless, not as if my faith's growing.  I quote Jesus:  "My God, my God, why have you forsaken me?  I ask, "Why me?  Why this?  But heaven's silent.  I'm left with God's Word on printed page reminding me he's at work for good.  But I see no good no matter how I strain my eyes.
Yet it's precisely at this point I face a choice:  keep trusting despite not knowing or shipwreck my faith once and for all.  And it's then a still, small voice whispers:  where will you go if you turn from trusting Jesus?