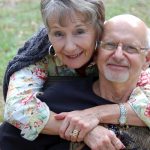 I spent three days in the hospital last week.
It all started when coughing woke me 4:45 a.m. I fought to breathe.  Lois phoned 911.  Paramedics, despite my misgivings, loaded me onto a gurney and slid me in an ambulance.  What followed was the roughest ride I've ever had.  Don't they put shocks on these things?
At Bayonet Point Hospital, I was rolled to the ER where they put a huge oxygen mask on me.  I sounded like Darth Vader.  My great primary doctor appeared with assuring words.  They probably did tests; but I don't remember.  I do remember being wheeled to a room.  Admitted.
So started a series of tests and treatments that continued all hours day and night—blood tests, breathing treatments, temperature, blood pressure, oxygen tests.  The first night (Tuesday) I didn't get to sleep until 3:30 a.m.  I was given a "better" bed (it was) at about 2:30 a.m.—which meant four nurses dumping me from the less-good to the "better" bed.  I woke weary about 6 a.m.  Pill time.
The second night was slightly better.  I slept five hours, interrupted by more tests.  I again woke weary at 6.  By now, I was crazy to go home.
But the staff was wonderful.  Genuinely caring.  Personable. Professional.  Friendly.  Warm.  I give them an A+.  My primary doctor too.  He visited every day, and took charge of my care.  In my book, he's one in a million.  Knowledgeable.  Professional.  Putting the patient's needs above traditional protocol. His diagnosis:  pneumonia.  Even though an x-ray showed little improvement after three days of IV antibiotics, he recognized hospitalization was counter-productive, surrendered to my nagging, and released me.
A muscular CNA shifted me to a wheelchair and bear-hugged me into our daughter Missy's car.  Free at last!  I dropped from her car into my wheelchair for the ride into the house.  How happy I was to see our dog Scooby Girl!  I think she was happy to have me home too.
I'm still weak.  Need oxygen.  And Lois uses a Hoyer Lift to transfer me from bed to wheelchair.  A big sack of potatoes being hauled around!
What does the future hold?  Hopefully I'll regain some strength.  My legs are like wet noodles.  Hopefully, too, antibiotic pills will break up congestion in my lungs.
That's my health report.  Not good.  Now, my God report.  I thank him I'm back home. I thank him for my constant-companion wife and supportive family. I thank him for my caring and pro-active primary doctor. I thank him for every one who prays for me.  And I thank him for the wonderful hospital staff.
But I wonder what God is doing.  I've prayed repeatedly for healing.  But the Lord's been silent.  Should I keep asking, because those who keep asking receive? Or is the Lord saying no–"My grace is sufficient for you, for my power is perfected in weakness"? Instead of taking my weakness away, does he want to give me power to endure with faith and joy and praise for his honor? I haven't "heard" a no yet, but there it is in 2 Corinthians.  Maybe I just can't accept that these closing months/years of my life here must be lived this way. Am I believing or just stubborn?
Almost daily I recall Jesus' promise . . .
"Ask and it will be given to you; seek and you will find; knock and the door will be opened to you.  For everyone who asks receives; he who seeks finds; and to him who knocks, the door will be opened. Which of you, if his son asks for bread, will give him a stone? Or if he asks for a fish, will give him a snake? If you, then, though you are evil, know how to give good gifts to your children, how much more will your Father in heaven give good gifts to those who ask him" (Matthew 7:7-11)!
Honestly?  It feels like the Father is giving me a stone, not bread.
Then I remember God is sovereign . . .
In Him also we have obtained an inheritance, being predestined according to the purpose of Him who works all things according to the counsel of His will, that we who first trusted in Christ should be to the praise of His glory" (Ephesians 1:11,12).
He "works all things according to the counsel of his will . . . that we should be to the praise of his glory".
And he works all things for our good . . .
"And we know that all things work together for good to those who love God, to those who are the called according to His purpose" (Romans 8:28).
I guess that all means the "good gifts" he promises to give may not look or feel good, but ultimately are.  So I'm left hanging by finger nails onto his promises, trusting this is all good and, that if I fall, underneath are the everlasting arms (Deuteronomy 33:27).
Thank you for praying.