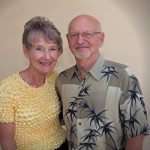 Lois and I want to continue in ministry.  But my disability limits us.  While this blog has become my primary ministry and Lois still bears witness of Christ at work, we want to contribute more.
Intercessory prayer doesn't require me to run or even walk, so I can partner with Lois to pray.  We're aware of many needs.  Still others we don't know.  So . . .
If you would like us to pray for you or a need close to your heart (whoever and wherever you are), please let us know.  Send it via email to Allan@SonRisecc.com or to Lois@SonRisecc.com.  We will keep your request confidential.  And we will pray daily for you.  The only thing we ask is that, when the Lord answers, you tell us!
I urge, then, first of all, that requests, prayers, intercession and thanksgiving
be made for everyone (1 Timothy 2:1)
This is the confidence we have in approaching God:
that if we ask anything according to his will, he hears us.
And if we know that he hears us– whatever we ask–
we know that we have what we asked of him (1 John 5:14,15).
We really do care about you!  And, more importantly, the Lord does!