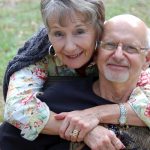 God gives generously, liberally, abundantly.  More than can fit in one blog!  So here's the rest of the "good stuff" that comes to us justified-by-faith-in-Christ-people in Romans 5:1-11 . . .
REJOICING IN SUFFERINGS
"Not only so, but we also rejoice in our sufferings, because we know that suffering produces perseverance; perseverance, character; and character, hope.  And hope does not disappoint us . . . " (5:3,4a).
" . . . rejoice in our sufferings" An oxymoron.  Suffering isn't joyful.  It's in the world because we humans exchanged the Creator's glory for our own images.  And, in wrath, God gave us over to what we want—and the consequences. But, for the justified, God uses suffering to produce perseverance (or, endurance) in us.  Perseverance develops character—a difficult-to-interpret Greek word which moves one writer to picture a veteran soldier, no longer a boot-camp rookie, now battle-tested and toughened.  And that character produces our capacity for hope of future glory.  And, Paul writes, that hope "does not disappoint us . . . . " –it will in no way fail to satisfy us!
" . . .  rejoice", again, is a verb.  (Not a state-of-being noun.)  And rejoicing "in our sufferings" is something, says Paul, we can do because we are justified and because of what suffering-as-justified-people produces—endurance, character, and non-disappointing hope.
I'm still working on this one.  Haven't gotten it down yet. I want healing from my physical sufferings.  Am I wrong?  Should I be praying for the ability to rejoice in my sufferings?  Apparently so.  Wouldn't it be great to rejoice in our sufferings?  Holy Spirit, enable me!
POURED-OUT LOVE
"And hope does not disappoint us, because God has poured out his love into our hearts by the Holy Spirit, whom he has given us" (5:5).
The reason our hope of sharing God's glory will not end in disappointment is this:  "God has poured out his love into our hearts by the Holy Spirit".
Paul's words recall Ezekiel's new covenant prophecy . . .
"I will sprinkle clean water on you, and you will be clean; I will cleanse you from all your impurities and from all your idols. I will give you a new heart and put a new spirit in you; I will remove from you your heart of stone and give you a heart of flesh. And I will put my Spirit in you and move you to follow my decrees and be careful to keep my laws" (Ezekiel 36:25-27).
In this case, Paul writes God, by the Holy Spirit, has poured out "his love" into our hearts.  By this Spirit-given love, God inaugurates our certain hope.
This love is subjective–love we sense, feel.  It bears witness with our spirit that the loving God is at work within us by the Holy Spirit.
The foundation for this love poured out and for our justification itself, however, is objective, not left to the realm of feeling . . .
"You see, at just the right time, when we were still powerless, Christ died for the ungodly.  Very rarely will anyone die for a righteous man, though for a good man someone might possibly dare to die. But God demonstrates his own love for us in this: While we were still sinners, Christ died for us" (5:6-8).
It was "just the right time" according to God's timing.  " . . . we were still powerless", totally helpless to escape God's wrath.  We were "ungodly"—anti-God, blasphemous, depraved.  We were "still sinners"—living in conscious opposition to God's good will.
And "Christ died for us."
Sure, occasionally some will die for a good person.  A soldier for his buddy, for instance.   But only Christ will die for wretched sinners.  And only God will  demonstrate his own love for us like that!
RESCUE FROM WRATH
"Since we have now been justified by his blood, how much more shall we be saved from God's wrath through him! For if, when we were God's enemies, we were reconciled to him through the death of his Son, how much more, having been reconciled, shall we be saved through his life!" (5:9,10).
Paul makes a logical argument.  Since God did the more difficult thing (justifying sinners by Christ's blood), then he can do the less difficult thing (save them from his coming wrath).  By the way, let's make no mistake.  While God in his wrath gives God-rejecters over to their lusts, the day of his wrath still comes (2:5).  But there's no way God will allow his wrath to touch his justified.
REJOICING IN GOD TO WHOM WE ARE RECONCILED
"Not only is this so, but we also rejoice in God through our Lord Jesus Christ, through whom we have now received reconciliation" (5:11).
Not only will the reconciled be saved from God's future wrath, reconciliation gives us cause to rejoice now in God.  The Greek kauchauomen means "boast of with joy" or "glorify with joy".  The key to this rejoicing in God is "reconciliation", which Paul uses to sum up justification and all its benefits.  The Greek for "reconciliation" is katalagayn referring to the reestablishing of a personal relationship.  We who have trusted God's justifying work through Christ now have a personal "connectedness" with God himself.  "The Spirit himself testifies with our spirit that we are God's children" (8:16a).   In this God, Paul writes, we rejoice.
* * *
As I admitted above, I'm still working on the rejoicing-in-suffering "stuff".  I get what Paul's saying.  Suffering produces perseverance in me, perseverance produces proven character, and proven character increases my capacity to hope in sharing God's glory.  I just want to go to God's glory with the bottom half of my body working!  So I pray, and I ask you to pray, that, trusting the good God promises to bring from it, I might rejoice in my suffering for as long as it continues.
Poured-out love is a warm fuzzy.  Well, it's more than that, but not less.  There's nothing like feeling loved, especially when you don't deserve it.  And there is nothing like feeling loved by God.  I don't feel it often.  But I know that feeling comes when I'm meditating on his Word that tells me he loves me.  (I think there's a lesson to be learned there somewhere!)
Paul seems to overdo rescue from God's wrath.  It under girded his "Peace with God" benefit.  Now, here it is again.  Maybe it's because he knows we underplay it.  A terrible day of God's wrath is coming.  (Don't you wonder how he can still withhold it when you look at the world?)  But he will shelter us from his wrath, because he's already rescued us from it through Christ.
For me, rejoicing in God (that is, joyfully give him glory) doesn't come automatically.  Largely this is due to my illness.  I have to meditate on his Word that tells me who he is and what he's done.  When I do–and when I do it in an attitude of prayer thinking deeply about his Word (such as Romans 3:21-5:11) joyful praise to him comes.
And that's when I realize again that God himself is the greatest "good stuff" of justification!