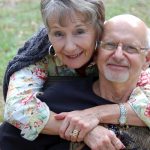 " . . .  my glory,"
and the one who lifts my head."
Memorable words from King David to the Lord.
In this dark psalm
he flees from his son, Absalom.
Absalom conspired
to steal the kingdom.
He turned the Israelite's hearts.
David fled before escape was blocked.
"So the king left,
followed by all his household . . . " ( 2 Samuel 15).
"O LORD, how many are my foes!
How many rise up against me!
Many are saying of me, 'God will not deliver him.'
But you are a shield around me, O LORD;
you're my glory and the lifter of my head" (Psalm 3:1-3).
David had slain the giant Goliath.
But he doesn't stand his throne like a warrior.
Instead he  sadly, slowly slinks away in weakness.
His ears hear onlookers' gossip:
"God will not deliver him."
He  whispers– in faith–to the LORD,
" . . . you are a shield around me;
I find my glory just in serving you;
you raise my head high."
Outwardly, David is defeated, humiliated;
inwardly, he's rushing to the LORD his refuge.
Not only so; he prays,
"Rise up, O LORD!  Deliver me, O my God!"
It's a prayer of hope
in depressing, degrading circumstances.
The LORD will restore him.
David expects to recover the throne.
Our kingdom hasn't been usurped.
We're not slinking out the city,
hearing God's-gone-gossip,
humiliated, disgraced, disowned.
Even so, today we may trudge along,
much of what we once were gone.
Life was good,
under control.
Now, like David, our steps are heavy,
kingdom lost, God gone.
But dare we repeat David's wonderful words?
Can we rightly claim them as ours too?
"But you are a shield around me, O LORD;
you're my glory and the lifter of my head."
Is the LORD to us who he was to King David?

David repeats what he hears:
"Many are saying to me,
'There is no help for you in God'."
So came mockers to Jesus' cross:
"He trusts in God; let God deliver him now."
The Son of David heard the same cruel words.
Of course, unlike David, God didn't deliver him
–just let him die.
But God was Jesus' glory, as he was David's,
the One who lifted his head.
On the third day he raised Jesus to life.
The psalm applies to Christ,
so it applies to us who are in Christ.
The LORD is a shield around us.
He is our glory.
He is the lifter of our head.
We can sing it to him in worship,
and find it is so . . .