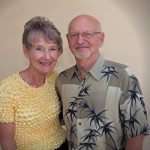 A lesbian once phoned to ask if she and her partner would be welcomed at our church.  I was totally unprepared.  I wondered to myself how our people would respond.  I wasn't sure.  So I ended up telling her they would be more comfortable elsewhere.  After I hung up, I had second thoughts.  Did I miss an opportunity to get in on something God may have been doing in those women's lives?  Or did they firmly believe that Jesus accepted them as lesbians?
The Aftermath of Peter Visiting Cornelius.
Among the Jewish Christian church were men firmly convinced that any non-Jew who joined the church needed circumcision.  So when Peter returned to Jerusalem, he was confronted by critics . . .
The apostles and the brothers throughout Judea heard that the Gentiles also had received the word of God.  So when Peter went up to Jerusalem, the circumcised believers criticized him  and said, "You went into the house of uncircumcised men and ate with them."  Peter began and explained everything to them precisely as it had happened:  "I was in the city of Joppa praying, and in a trance I saw a vision. I saw something like a large sheet being let down from heaven by its four corners, and it came down to where I was.  I looked into it and saw four-footed animals of the earth, wild beasts, reptiles, and birds of the air.  Then I heard a voice telling me, 'Get up, Peter. Kill and eat.'  "I replied, 'Surely not, Lord! Nothing impure or unclean has ever entered my mouth.'  "The voice spoke from heaven a second time, 'Do not call anything impure that God has made clean.'  This happened three times, and then it was all pulled up to heaven again.  "Right then three men who had been sent to me from Caesarea stopped at the house where I was staying.  The Spirit told me to have no hesitation about going with them. These six brothers also went with me, and we entered the man's house.  He told us how he had seen an angel appear in his house and say, 'Send to Joppa for Simon who is called Peter.  He will bring you a message through which you and all your household will be saved.'  "As I began to speak, the Holy Spirit came on them as he had come on us at the beginning.  Then I remembered what the Lord had said: 'John baptized with water, but you will be baptized with the Holy Spirit.'  So if God gave them the same gift as he gave us, who believed in the Lord Jesus Christ, who was I to think that I could oppose God?"  When they heard this, they had no further objections and praised God, saying, "So then, God has granted even the Gentiles repentance unto life" (Acts 11:1-18).

Thankfully they resolved the conflict.  The coming of the Holy Spirit on Cornelius and his guests sealed the deal.  "So if God gave them the same gift as he gave us, who believed in the Lord Jesus Christ, who was I to think that I could oppose God?"  When they heard this, they had no further objections and praised God, saying, "So then, God has granted even the Gentiles repentance unto life."
I wonder.  I know that circumcision and lesbianism are vastly different issues.  I know that same-sex practice is sinful and that many believe it isn't.  But must a lesbian turn away from her lesbianism before she can become a Christian?  Must she renounce her lesbian practice before the church welcomes her in love?  A practicing lesbian shouldn't ultimately feel comfortable in our churches, just as an adulterer shouldn't.  But is it possible to love them into hearing the truth of the gospel?  Could our churches do that? Suppose the lesbian couple spoke in tongues as they did at Pentecost?   Would we receive that as a sign of God's acceptance of them (not their lesbian practice) or would we condemn their "charismatic" practice?
The Gospel Reaches Gentile Antioch                                                         
Antioch, the seat of the Roman provincial administration in Syria, was the world's third largest city behind Rome and Alexandria (Egypt).  Known for its sexual immorality (largely because of its pagan cults),  it was about to become the center of Gentile Christianity.  Author Luke reports that the church was planted there as a result of earlier persecution in Jerusalem about 490 miles to the south.
Now those who had been scattered by the persecution in connection with Stephen traveled as far as Phoenicia, Cyprus and Antioch, telling the message only to Jews.  Some of them, however, men from Cyprus and Cyrene, went to Antioch and began to speak to Greeks also, telling them the good news about the Lord Jesus.  The Lord's hand was with them, and a great number of people believed and turned to the Lord.  News of this reached the ears of the church at Jerusalem, and they sent Barnabas to Antioch.  When he arrived and saw the evidence of the grace of God, he was glad and encouraged them all to remain true to the Lord with all their hearts.  He was a good man, full of the Holy Spirit and faith, and a great number of people were brought to the Lord.  Then Barnabas went to Tarsus to look for Saul,  and when he found him, he brought him to Antioch. So for a whole year Barnabas and Saul met with the church and taught great numbers of people. The disciples were called Christians first at Antioch.  During this time some prophets came down from Jerusalem to Antioch.  One of them, named Agabus, stood up and through the Spirit predicted that a severe famine would spread over the entire Roman world. (This happened during the reign of Claudius.)  The disciples, each according to his ability, decided to provide help for the brothers living in Judea.  This they did, sending their gift to the elders by Barnabas and Saul (Acts 11:19-30).
The "men of Cyprus and Cyrene" took a momentous step by "preaching the Lord Jesus" to these Gentiles.  This time no controversy erupted (though the "Gentile issue" was far from settled).  Perhaps that had much to do with Barnabas ("the son of encouragement") and Saul, who both were Grecian Jews, not "Jewish" Jews who insisted Gentiles become circumcised Jews to become Christian.
And perhaps they also understood that all of us are "unclean" before the holy God.  Paul knew that . . .
Here is a trustworthy saying that deserves full acceptance:
Christ Jesus came into the world to save sinners–
of whom I am the worst. But for that very reason
I was shown mercy so that in me, the worst of sinners,
Christ Jesus might display his unlimited patience
as an example for those who would believe on him
and receive eternal life.
(1 Timothy 1:15,16)
Among some Jews, circumcision had become a badge of superiority.  They were God's chosen people.  I'm guessing that "Jewish supremacy" at least partly motivated them.  And nothing turns people off to the gospel like pride.  When the gospel is preached by a "supremacist", unbelievers can "smell" the odor. The Jewish church had some genuine theological issues to deal with.  But I suspect with some supremacy was a motivating factor.  This is especially true when it comes to sinners against God's sexual laws today.  Any hint of supremacy must be humbly crucified.
Better in telling the gospel that we purge ourselves of pride
and speak with the attitude that  "The gospel is just one sinner
telling another where he can find bread."