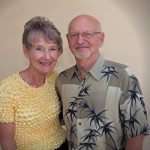 "It pleased God…to display his free and sovereign mercy in the conversion of a great multitude of souls in a short space of time, turning them from a formal, cold, and careless profession of Christianity, to the lively exercise of every Christian grace, and the powerful practice of our holy religion" (Jonathan Edwards, "A Narrative of Surprising Conversions," Carlisle: The Banner of Truth Trust, first published in 1736, p. 2)."
"We are about to enter a zone where no man has ever gone before. The Lord spoke to me and said, 'I'm going to freak you right out with the things that I'm going to be doing because you're going to have no grid for it.' … The Lord's about to take us on some roads that don't exist on human maps"  (Darren Stott, 34, pastor of the Seattle Revival Center).
Contrasts.
The contrast between these two descriptions couldn't be more striking.  Is it just a language-change from the 18th century to the 21st?  Or is it a change in revival aims?   The First Great Awakening seems aimed at conversion and holy living.  Today's seems aimed more at ecstatic spiritual experiences.  It's as if today we see these revival experiences as the high point of spiritual life.
Patrick Morley, Christian author and speaker, describes what a revival is:  "During a revival, God supernaturally transforms believers and non-believers in a church, locale, region, nation, or the world through sudden, intense enthusiasm for Christianity.  People sense the presence of God powerfully; conviction, despair, contrition, repentance, and prayer come easily; people thirst for God's word; many authentic conversions occur and backsliders are renewed."  Even that enthusiastic explanation implies that God sends a revival because people have become spiritually lethargic and weak.  A revival isn't like a doctor advising a healthy patient how to have optimum physical health; it's more emergency room doctor using defibrillation paddles to re-start a patient's heart with a dose of electrical current.  The ultimate goal isn't a heart restart; it's optimum physical health.  So, while God certainly uses revivals his ultimate goal is Christ-likeness.
"For those whom he foreknew he also predestined
to be conformed to the image of his Son . . . "
(Romans 8:29a)
Need.
Having said that, I'll repeat what I wrote in an earlier blog:  I think the church in the U.S. needs a revival.  Despite mega-churches and high-production worship services and creative sermons and "portable" Christian music on smartphones, I get the impression that Christianity in America is, as they say about Tampa Bay's waters, a mile wide and an inch deep.  The church needs renewing.  Whether what's happening on the West Coast is part of that renewing  remains to be seen.
Skepticism.
I have to admit I get skeptical about "prophetic words" from leaders associated with "the Rumble":   "The Lord spoke to me and said, 'This whole thing is going harvest . . . The angel of the Lord is going to be connected with you now,.  You will not leave Seattle until the angel tells you to go'" . . .  and the already-cited, "We are about to enter a zone where no man has ever gone before. The Lord spoke to me and said, 'I'm going to freak you right out with the things that I'm going to be doing because you're going to have no grid for it.' … The Lord's about to take us on some roads that don't exist on human maps." Prophecy as forth-telling I can abide; prophecy as foretelling makes me uneasy.
In the 1970s or 80s (I can't remember which) the charismatic movement got caught up in extreme discipleship.  Every Christian was to have a discipler to oversee his/her life.  I heard some horror stories.  Leaders of "The West Coast Rumble". according to author Holly Piver,  "share a common belief that the church is to be governed by apostles and prophets,.  Churches come voluntarily under an apostle and pastors are supposed to submit to them. 'Spiritual covering' is what they call it, and if they are not under this covering, they are outside of God's blessing."  I don't see allowance for that in the New Testament and am concerned these folks are repeating the same error as their predecessors 30 years ago.
Confusion.
Revivals tend to feature confusion.   Here's what Edwards wisely wrote about that:  " . . . if God is pleased to convince the consciences of persons, so that they cannot avoid great outward manifestations, even to interrupting and breaking off those public means (meetings) they were attending, I do not think this is confusion, or an unhappy interruption, any more than if a company should meet on the field to pray for rain, and should be broken off from their exercise by a plentiful shower. Would to God that all the public assemblies in the land were broken off from their public exercises with such confusion as this the next sabbath day!  We need not be sorry for breaking the order of means, by obtaining the end to which that order is directed. He who is going to fetch a treasure, need not be sorry that he is stopped, by meeting the treasure in the midst of his journey."
Warning.
Whatever we think of revivals, I warn myself and others not to be found opposing God.  At the end of my writing about revivals, I haven't discovered any hard, fast rules for discernment, except this:  Jesus must be exalted as Lord and Savior.  If he is not (because, say, ecstatic spiritual experiences are), then either the revival is not from the Holy Spirit or the Spirit is speaking as if through Balaam's dumb donkey (Numbers 22:21-30).
Pray.
Lastly, I think we should be praying fora genuine revival/awakening/renewal (whatever the okay word is for us) in our churches.  How quickly our routines become ruts!  How low our expectation that God is really going to act in our services!  How little our influence in the community for Jesus' sake!  When the world can take us or leave us, and when the government fearlessly dares to still our Bible-talk as homophobic or hate speech, the church needs renewed power to effectively proclaim God's truth in Christ!