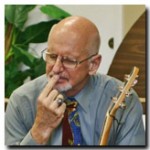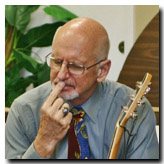 Over the years I've heard Christians ask, "Why, God?"  A loved one's death, a baby born deformed, cancer, an adulterous husband—suffering like that prompted the questions.
I used to think, "Why does she ask why? Knowing the reason won't restore the loss!"
I don't think like that anymore.  Now I'm asking why.
A year ago doctors diagnosed me with primary lateral sclerosis.  It's a neurological disorder in the brain that weakens the legs and progresses upward to the arms and even the mouth and tongue—and, of course, affects their function.   PLS doesn't treat everyone the same; the time and extent of progression differ.  This is the same, though:  no cure.  Doctors try to treat symptoms.  But they can't treat weakness.  PLS drove me to retire from what I loved.  I can't play with my grand kids.  Can't carry my weight with household chores.  Can't walk without a walker (or two canes).  I get in and out of my truck like a walrus.  I try to keep pushing myself; but when I feel like I just ran a marathon (I wish), it's virtually impossible to write a sensible blog (explains a lot, doesn't it!).
So now I'm asking, "Why, God?"  Trouble is, I already know the answers. ("Trouble", because they're not the answers I want.)
The Curse of Sin and Death.  After our first parents ate forbidden fruit, the LORD told Adam, " . . . for you are dust, and to dust you shall return" (Genesis 3:19c).  Centuries later the apostle Paul echoed:  "Therefore, just as sin came into the world through one man, and death through sin, and so death spread to all men because all sinned . . . " (Romans 5:12).  Typically, dying is preceded by aging.  And aging brings aches and pains and disease and disability. 
Reliance Learning.  Paul suffered affliction in Asia.  " For we were so utterly burdened beyond our strength that we despaired of life itself.  Indeed, we felt that we had received the sentence of death" (2 Corinthians 1:8,9a).  Why, God?  "But that was to make us rely not on ourselves but on God who raises the dead" (1:9b).  Why did Paul have to learn better to rely on God?  " . . . so that we may be able to comfort those who are in any affliction, with the comfort with which we ourselves are comforted by God (1:4b).  God designed life to be lived relying on him.  And God wants to use us to help others rely on him in their need.
Intimate Knowledge of Our Savior.  Later, Paul revealed his deep desire: " . . . that I may know him and the power of his resurrection, and may share his sufferings, becoming like him in his death, that by any means possible I may attain the resurrection from the dead" (Philippians 3:10).  In suffering we have opportunity to know more intimately the suffering Christ.  Frankly, I'd rather know him in the power of his resurrection.  But resurrection-knowing follows suffering-knowing.
The same thought lies behind 2 Corinthians 12:9,10.  After Paul repeatedly asked the Lord to take his "thorn" away, this is what he wrote:  But he said to me, "My grace is sufficient for you, for my power is made perfect in weakness."  Therefore I will boast all the more gladly of my weaknesses, so that the power of Christ may rest upon me.  For the sake of Christ, then, I am content with weaknesses, insults, hardships, persecutions, and calamities.  For when I am weak, then I am strong.  The arena for Christ's sufficient grace is our insufficiency.   The stage for the display of the  Lord's power is our weakness. 
Christ-like Maturity.  Christ sanctifies us (John 17:19).  God's Word sanctifies us (John 17:17).  Our faith in Christ sanctifies us (Acts 26:18).  The Holy Spirit sanctifies us (Romans 15:16).  And suffering sanctifies us . . .
 Not only so, but we also rejoice in our sufferings, because we know that suffering produces perseverance; perseverance, character; and character, hope. And hope does not disappoint us, because God has poured out his love into our hearts by the Holy Spirit, whom he has given us (Romans 5:3-5) . . . Consider it pure joy, my brothers, whenever you face trials of many kinds, 3 because you know that the testing of your faith develops perseverance. 4 Perseverance must finish its work so that you may be mature and complete, not lacking anything (James 1:2-4).

Why ask why?  At least two reasons.  One, to endure easier.  Seeing the good God promised from this "bad" (Romans 8:28-30) would encourage us to press on. 
Two, to complain.  "Why?" is code for "I don't deserve this!  Why are you doing this to me, God?"  
Two answers from God.  The first is long and majestic (Job 38:1-42:17).  The second from Paul (though in a different context) is in-your-face:  . . . who are you, O man, to answer back to God?  Will what is molded say to its molder, "Why have you made me like this?" (Romans 9:20). 

 What's wiser than asking "Why?"  Praying this prayer from Romans 8 . . .
O God, I know that for those who love you all things work together for good,
for those who are called according to your purpose.
You foreknew me and predestined me to be conformed to the image of your Son,
so that he might be the firstborn among many brothers.
You predestined me, called me, justified me and glorified me . . .
You did not spare your own Son but gave him up for me.
How will you not also with him graciously give me all things? . . .
Who shall separate me from Christ's love?
Shall tribulation, or distress, or persecution, or famine, or nakedness, or danger, or sword?
No, in all these things I am more than a conqueror through you who loved me.
For I am sure that neither death nor life, nor angels nor rulers,
nor things present nor things to come, nor powers,
nor height nor depth, nor anything else in all creation,
will be able to separate me from your love, O God, in Christ Jesus my Lord.
*Note:  For me this prayer isn't a victory chant in the end zone.  It's fuel for the fight of faith that's still going on!