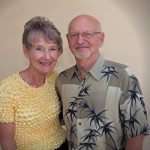 At a Donald Trump rally recently, Dallas First Baptist Pastor Robert Jeffries said that if Trump is elected president, "Evangelical Christians are going to have a true friend in the White House . . . Any Christian who would sit at home and not vote for the Republican nominee (here meaning Trump) . . . that person is being motivated by pride and not principle."  (Read the whole article here . . .
http://thescoopblog.dallasnews.com/2016/03/donald-trump-reaches-evangelical-vote-through-dallas-pastor-robert-jeffress.html/?utm_source=jolt&utm_medium=email&utm_campaign=Jolt03082016&utm_term=Jolt.)
Those remarks came after Mr. Trump called Pastor Jeffries from the crowd to join him on stage.
In today's "Morning Jolt" from "National Review", Jim Geraghty refers to this, and evangelical Christians' support of Trump in general, as an odd phenomenon, because Trump is a "previously pro-choice, thrice-married casino and strip-club owner who bragged of his affairs with married women, kissed Rudy Giuliani dressed in drag, defends Planned Parenthood, and says he's never asked for God's forgiveness."  On top of that, Trump professes to be a Christian, a Presbyterian.
I was aghast when (Christian) Liberty University president Jerry Falwell, Jr. endorsed Trump a few weeks ago.  Now I'm doubly aghast.  Do these Christian leaders think character counts for nothing?  Obviously with them, ranting anger–not to mention vulgarity and a Mussolini-approach to policy and an unrepentant spirit–matter little.  Shame on them.  I'm glad I'm not Baptist or a graduate of Liberty.
Of course, Falwell  and Jeffries are free to endorse whomever they want.  But they also have a responsibility, especially as Christian leaders, to measure how a candidate measures up to Scripture.
David French, staff writer at "National Review", writes:  "I have spent my entire adult life advocating against abortion and working to protect the unborn.  I didn't endure the taunts and jeers of my law school classmates, work countless days and nights away from home to protect the free-speech rights of pro-life protesters, and defend the freedoms of the unsung heroes in crisis-pregnancy centers only to vote for a man who's a walking Planned Parenthood commercial."
What troubles me at least as much as his approval of Planned Parenthood and his seemingly "seat of the pants" policy pronouncements and self-contradictions is the implication that he will get "the other guy" to do what he wants.  He'll make us "winners" by making others losers.  Even the military will have to obey, no matter that the order is unlawful.  (I think he walked that one back.)  It sounds like he's running for king, not president.
How can Christian leaders endorse him?  Don't they remember what Jesus taught about the rulers of the Gentiles when the disciples argued over being the greatest in the kingdom?  (I'll quote it from both the New International Version and the New Living Translation.)
Jesus called them together and said,
"You know that those who are regarded as rulers of the Gentiles lord it over them,
and their high officials exercise authority over them.  Not so with you.
Instead, whoever wants to become great among you must be your servant,
and whoever wants to be first must be slave of all. 
For even the Son of Man did not come to be served, but to serve,
and to give his life as a ransom for many." (Mark 10:42-45, NIV)
So Jesus called them together and said,
"You know that in this world kings are tyrants,
and officials lord it over the people beneath them.
But among you it should be quite different.
Whoever wants to be a leader among you must be your servant, 
and whoever wants to be first must be the slave of all. 
For even I, the Son of Man, came here not to be served
but to serve others,
and to give my life as a ransom for many." (Mark 10:42-45, NLT)
It seems to me Mr. Trump fits dangerously close to the Gentile leadership model Jesus condemns.  And he doesn't seem anywhere near the model Jesus requires.
I understand these candidates aren't running for pastor-in-chief.  But isn't this the leadership style Jesus would most bless?  Isn't this the method that "works" best, whether it's leadership in the family, in business or in the White House?  If having a biblical worldview means anything, then this passage applies to the current crop of would-be Republican political leaders.
If Trump gets elected, I doubt we'll have a friend in the White House.