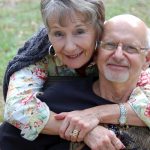 The silence of God.
Deafening.
Devastating.
All my life I've prayed.
Answers never came dramatically.
But I always had the sense that  God was there and in control,
through circumstances providing,
answering.
But now, silence.
Not me alone, I learn.
Joseph.
Sold by his brothers to traders,
who caravaned him to Egypt.
Camel clopping hoofs,
traders laughing.
Though the narrative says nothing,
surely in those frightening hours,
torn from home,
Joseph surely prayed.
But God's response was .  .  . silence.

David.
The Psalms give glimpses
of  his struggles with God's silence,
as 1 & 2 Samuel tell the history–
a fugitive in the wilderness from Saul's fury,
a dethroned king running for his life from his son.
" O my God, I cry out by day,
but you do not answer" (Psalm 22:2a).
"To you I call, O LORD my Rock;
do not turn a deaf ear to me.
For if you remain silent,
I will be like those who have gone down to the pit"
(Psalm 28:1).
"O LORD, you have seen this;
be not silent.
Do not be far from me, O Lord"
(Psalm 35:22).
"O God, whom I praise, do not remain silent . . . " (Psalm 109:1).
So David prayed repeatedly to a silent God.
And all Israel chanted his prayers in worship.
Israel, God's chosen, often heard God's silence.
Asaph, of whom we know little:
"O God, do not keep silent;
be not quiet, O God,
be not still" (Psalm 83:1).
Of course, Job–
his suffering most heart-wrenching.
Family crushed
wealth robbed,
health gone,
helplessly dying in the dirt,
surrounded by three friends,
who searched for sin that caused such suffering.
From them an endless chain of words.
From God, silence.
" , , ,there was a time when God answered my prayers" (Job 12:4).
Not now.
And me.
The silence of God surrounds me.
I cup my ear to hear a word.
Squint my eyes to see his hand.
With David I pray,
"O God, whom I praise,
do not remain silent."
What am I to do?
Not be silent.
Pray.
Trust.
Both are hard,
when God stays silent,
when he remains hidden,
when I feel he's a father,
giving a stone, not bread.
But, listen,
I hear Joseph whisper,
"It was God who sent me to Egypt,
to save many lives."
But Joseph knew only much later
that God's silence was not for suffering,
but salvation.
And David:
"Blessed be the Lord,
for he has head the sound of my pleading . . .
So I am helped,
and my heart rejoices."
I hold Asapah's words,
and hear him as he writes in faith,
"Our God comes and will not be silent;
a fire devours before him
and around him a tempest rages" (Psalm 50:3).
And Job, whom the Lord reproved
out of the whirlwind:
"Who is this
that darkens counsel without knowledge?" (Job 38:2).
When I don't humbly pray,
when I don't persevere in trust through silence,
when I don't credit God with being at work,
I'm a presumptuous fool.
The end will show the good of God.
His triumphant voice will shatter the silence.
'Til then, I must seek to hear his voice
In creation, in the Gospel, in his Son.
Despite my deafness,
Francis Schaeffer's words
are always wise and true:
"He is There,
and He Is Not Silent".