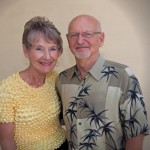 Our younger daughter posted this on Facebook today.  It's well worth reading.  I'll comment after . . .
– See more at: http://proverbs31.org/devotions/devo/please-dont-give-me-a-christian-answer/#sthash.rxElH0QU.dpuf
* * *
When someone's mourning, we want to comfort.  Our heart outraces our brain, and too often we say something foolishly unbiblical like, "God needed another angel."  We, of course, should comfort.  Of all people, we believers loved by God through Jesus should be the most prepared.  Usually, we think we should speak the most astute Bible verse to quickly start the healing process and somehow make sense of the suffering.  (If we're pastors we feel especially pressured to speak the timely, golden word!)
Usually we mimic, as Lysa notes above, a packaged Christian answer that sounds to the hurter's heart like, well, a packaged Christian answer, one size fits all.   More times that not, though, even if the packaged Christian answer is Scripture, it falls on a dazed mind and wounded heart.
When I'm struggling with my illness, Romans 8:28.29 comes to mind . . .
"And we know that for those who love God
all things work together for good,
for those who are called according to his purpose.
For those who he foreknew he also predestined
to be conformed to the image of his Son,
in order that he might be the firstborn among many brothers."
In those moments, what's meant to make sense of suffering rings hollow.  The Scripture is true, but it's not what I need at that moment.  I need someone to embrace me close and help carry my burden.  I need someone to agree that this isn't fair, that it makes no sense, and that we're in this together.
And, if an ant pile lurks under foot, say, "I hate ants!"  And, if no ants are available, "I don't understand either."  That's when we need lovers, not theologians.