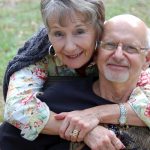 "Do not be unequally yoked with unbelievers" (6:14a).
Thus our Sunday school teacher warned us teenagers:  "Don't marry someone not a Christian!" (Not a problem. My eyes were already laser-set on Lois.)
But was Paul thinking of marriage?
The yoke-concept comes from ancient Israelite farm life.  The law said, "You shall not plow with an ox and a donkey together" (Deuteronomy 22:10)—a prohibition that reflected God creating everything "according to its kind" (Genesis 1:25) and that reminded Israelites God had separated them from other people to be holy (Deuteronomy 14:1,2).
The latter is Paul's thought here.  Corinthians were not to be "yoked with unbelievers" by engaging  with prostitutes in pagan temples (1 Corinthians 6:12-20; 8:1-11:1).  They were not to be "yoked with unbelievers" by taking their disputes to an unbelieving court (1 Corinthians 6:1-11) or by eating idol-meat in an unbeliever's home (1 Corinthians 10:27-29).  And widows must not marry unbelievers (1 Corinthians 7:39).
"Do not be unequally yoked together" is a powerful image—more powerful than Paul's first-letter warning against engaging with temple prostitutes ("Flee—run away—from sexual immorality" –1 Corinthians 6:18).
Here the warning isn't "Run away!"  It's "Don't get yoked!"
Paul now asks a series of rhetorical questions that provide grounds for his prohibition . . .
"For what partnership has righteousness with lawlessness? Or what fellowship has light with darkness? What accord has Christ with Belial (a name representing Satan)? Or what portion does a believer share with an unbeliever? What agreement has the temple of God with idols? For we are the temple of the living God; as God said, "I will make my dwelling among them and walk among them, and I will be their God, and they shall be my people. (6:14b-16).
The obvious answer to all is "None." The foundation for "Do not be unequally yoked" is firm.
"For" specifically explains why God's temple has no agreement with idols.  Paul has already called the Corinthian church "God's temple" because "God's Spirit lives in you" (1 Corinthians 3:16).  He repeats it here, perhaps thinking of what the Old Testament revealed only in part.
Leviticus 26:11–"I will set my tabernacle among you . . . and I will walk among you, and will be your God and you shall be my people".  Ezekiel 37:26,27–"I will make a covenant of people with them; it shall be an everlasting covenant with them . . . and I will set my sanctuary in the midst of them forevermore; my tabernacle also shall be with them; it shall be an everlasting covenant with them". 
But God's fulfilled presence in believers calls for purity . . .
 "Therefore go out from their midst, and be separate from them, says the Lord, and touch no unclean thing; then I will welcome you, and I will be a father to you, and you shall be sons and daughters to me, says the Lord Almighty" (6:17,18).
These are the Lord's words which Paul probably took from  Isaiah 52:8b-11—"When the LORD returns to Zion, they will see it with their own eyes. Burst into songs of joy together, you ruins of Jerusalem, for the LORD has comforted his people, he has redeemed Jerusalem. The LORD will lay bare his holy arm in the sight of all the nations, and all the ends of the earth will see the salvation of our God.  Depart, depart, go out from there! Touch no unclean thing! Come out from it and be pure, you who carry the vessels of the LORD."
In Christ, the Lord has returned to Zion.  He has bared his holy arm to work his salvation.  Now his saved and set-apart people must separate from unclean unbelievers. That Paul doesn't mean have no association with unclean believers is clear from 1 Corinthians 5:9,10—"I have written you in my letter not to associate with sexually immoral people–not at all meaning the people of this world who are immoral, or the greedy and swindlers, or idolaters. In that case you would have to leave this world."
"I will be a father to you, and you shall be my sons and daughters to me . . . " is taken from 1 Samuel 7:8-14a . . .
"Now then, tell my servant David, 'This is what the LORD Almighty says: I took you from the pasture and from following the flock to be ruler over my people Israel. I have been with you wherever you have gone, and I have cut off all your enemies from before you. Now I will make your name great, like the names of the greatest men of the earth.  And I will provide a place for my people Israel and will plant them so that they can have a home of their own and no longer be disturbed. Wicked people will not oppress them anymore, as they did at the beginning and have done ever since the time I appointed leaders over my people Israel. I will also give you rest from all your enemies. "'The LORD declares to you that the LORD himself will establish a house for you:  When your days are over and you rest with your fathers, I will raise up your offspring to succeed you, who will come from your own body, and I will establish his kingdom.  He is the one who will build a house for my Name, and I will establish the throne of his kingdom forever.  I will be his father, and he will be my son."
This was, of course, the Lord's promise to David's son, Solomon, and thus ultimately to Christ.  Paul extends "I will be his father" to those who are Christ's.
"Since we have these promises, beloved, let us cleanse ourselves from every defilement of body and spirit, bringing holiness to completion in the fear of God" (7:1).
Paul applies "these promises" to the Corinthians,from his pastoral heart despite their rejecting him,  calling them "beloved"—"very much loved ones"!
" . . . let us cleanse ourselves from every defilement of body and spirit" is another way of saying "Do not be unequally yoked together."  This imperative harmonizes with the temple of God metaphor.
" . . . [thus] bringing holiness to completion in the fear of God."  If the Corinthians cleanse themselves, separating themselves from unclean things, they will complete in their conduct the holiness they have in Christ.  This they must do with an eye to "the fear of God"—that is, their welcome as the Father's children depends on their self-cleansing.
* * *
I'm struck by the antitheses.  Not just opposites, but opposition.  Righteousness and lawlessness have no partnership.  They stand against one another.  Light and darkness have no fellowship.  One must overcome the other.  Christ and Satan have no accord.  There is antagonism between them.  God's temple vehemently contends with idols.
Therefore, when we "yoke" with unbelievers, we join the opposition.  And we bring God the Holy Spirit to the "dark side."  We do it when we engage in illicit (by God's standards) sex, when we take our disputes to a courtroom of unbelievers, when we "worship" with non-Christians, when we marry unbelievers.
This isn't moral legalism; this is living out in practice our transfer to the righteousness-side.  We are the temple of the living God.  Shall we join the Holy Spirit to the profane?
But when we live among unbelievers, do business with them, and enjoy friendships with them, how shall we know we've "yoked" them?  Sam Storms (pastor of Bridgeway Church, Oklahoma City) offers a wise guide:  "enter into no relationship or bond or partnership or endeavor that will compromise your Christian integrity or weaken your will for holiness or cast a shadow on your reputation."
We are the temple of the living God.  His presence makes his temple holy.  Therefore, we are forbidden to be "yoked" to what is not. He is holy . . .