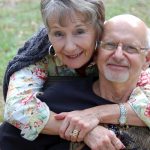 Praying is hard these days.  Because of my illness.  Like water streaming down to a mud puddle, so goes my mind.  Almost uncontrollably, I find myself praying for healing, asking for grace, and arguing my sad case with the Lord. All good things.  But this prayer focused on my illness so dominates my praying that it often leaves me feeling worse than when I started.
In this struggling prayer life, I've been reading the Psalms.   They are, of course, a magnificent collection of prayers in which a man (often David) opens his heart to the Lord.  So I read passionate praises, heart-felt thanksgivings, heart-breaking laments.  Many I identify with.  Like Psalm 57 I read the other day . . .
"Be merciful to me, O God, be merciful to me, for in you my soul takes refuge; in the shadow of your wings I will take refuge, until the destroying storms pass by.  I cry to God Most High, to God who fulfills his purpose for me. He will send from heaven and save me, he will put to shame those who trample on me. God will send forth his steadfast love and his faithfulness.  I lie down among lions that greedily devour  human prey; their teeth are spears and arrows, their tongues sharp swords" (57:1-4).
According to the superscription, this psalm comes from David "when he fled from Saul, in the cave".  If so, "those who trample on me" and "lions that greedily devour me" are Saul and his men pursuing David to kill him.  I make them my illness and its symptoms.  Then I sit in my wheelchair feeling safe in my Refuge, waiting–"until the destroying storms pass by".  (I pray they will and the "calm" of good health will return.)
"Be exalted, O God, above the heavens. Let your glory be over all the earth. They set a net for my steps; my soul was bowed down. They dug a pit in my path, but they have fallen into it themselves" (57:5,6).
I worship God.  I pray his glory will fill the earth.  And I pray that the symptoms of my illness (or Satan who may have sent it) will somehow destroy themselves instead of me.
So, you see, the psalm helps me not to wallow in my illness.  Instead, to bring it to God.  But it's these closing lines that especially reach my heart . . .
"My heart is steadfast, O God, my heart is steadfast. I will sing and make melody. Awake, my soul! Awake, O harp and lyre! I will awake the dawn.  I will give thanks to you, O Lord, among the peoples; I will sing praises to you among the nations.  For your steadfast love is as high as the heavens; your faithfulness extends to the clouds. Be exalted, O God, above the heavens. Let your glory be over all the earth"  (57:7-11).
I want to fight back against my illness.  Not give up.  Not even just ask God for healing and grace (which is good, but seems sort of passive).  I want to take positive steps in this battle.  To advance. 
This is one of those "forward march" kind of steps:  to steadfastly, day after day awaken my soul with thanksgiving and praises to the Lord.  I would say, "I will sing and make melody", but PLS has weakened my voice, so I can't speak normal volume, to say nothing of singing.  (One of my greatest regrets is being unable to sing in worship to the Lord.)
From a resolutely firm and unwavering heart, I will declare, " . . . your steadfast love is as high as the heavens; your faithfulness extends to the clouds." 
Is that just using the power of positive thinking to negate wallowing in my symptoms?  No!  It's declaring truth!  I have PLS.  And now melanoma.  But God's love remains steadfast, "as high as the heavens".  And God is still cloud-high faithful.
My prayer, then, becomes for God's exaltation "above the heavens."  And for his glory to be a white-bright cloud "over all the earth."
Being steadfast to awaken my soul to praise the Lord isn't a pill that takes away symptoms.  It's a weapon in this fight of faith.  But not one always easily taken up.  Many mornings, before I speak steadfastly, I have to pray for a steadfast heart.  Because many mornings, I don't feel resolute.  And the weapon of praise too heavy to pick up.
So, I ask the Lord to give me a heart from which I can speak steadfastly.  And, then, I speak in faith (whether I feel it or not):  "Awake, my soul!  I give you thanks, O Lord.  I speak praises to you . . . "
Given the scope of the battle, all this doesn't seem like much.  I'm still captive in my wheelchair.  Still marked with an almost 3 by 3 inch patch of melanoma on my head.
But I'm resolute.  A little old warrior standing (sitting) his ground proclaiming the glory of God's steadfast love.  Not celebrating victory.  But steadfastly fighting the battle that transcends my illness and extends to my faith in my God . . .