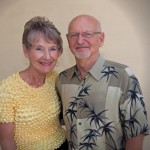 I can't imagine visiting a best friend's grave and finding it empty.  Headstone moved.  Dirt shoveled.  Open hole.  No casket.  Empty grave.  Actually, the three women who visited Jesus' tomb didn't find it completely empty.
Mark's report.

When the Sabbath was over, Mary Magdalene, Mary the mother of James, and Salome bought spices so that they might go to anoint Jesus' body.  Very early on the first day of the week, just after sunrise, they were on their way to the tomb  and they asked each other, "Who will roll the stone away from the entrance of the tomb?"  But when they looked up, they saw that the stone, which was very large, had been rolled away.  As they entered the tomb, they saw a young man dressed in a white robe sitting on the right side, and they were alarmed.  "Don't be alarmed," he said. "You are looking for Jesus the Nazarene, who was crucified. He has risen! He is not here. See the place where they laid him.  But go, tell his disciples and Peter, 'He is going ahead of you into Galilee. There you will see him, just as he told you.'" Trembling and bewildered, the women went out and fled from the tomb. They said nothing to anyone, because they were afraid (Mark 1:1-8).
Before analyzing that, a textual issue demands attention.  After verse 8 in my ESV Bible, a note says, "Some of the earliest manuscripts do not include 16:9-20."  Then it records those verses in double brackets ([[).
Textual criticism (16:9-20).

Textual critics try to determine the original wording of a text, like the original ending of Mark 16.  Did Mark write it?  Or did someone else add verses 9-20 later?  The bulk of textual critics (has nothing to do with their weight!) believe the latter.  Here's the story . . .
Mark wrote the Gospel, 1:1-16:8.  Professional scribes hand-copied it (no Xerox) for distribution to churches throughout the Mediterranean world.  Copies were made both from the original and from copies.  Despite meticulous care, copyists occasionally made an error.  Most were minor (spelling of a name, location of a town, etc.)  We have almost 5700 Greek-language copies  ("manuscripts"), not including thousands in other languages (far more than of any other ancient document).  Textual critics determine the original wording of the text by comparing manuscripts and following certain principles (such as, earlier-in-time manuscripts are considered more reliable than later ones—fewer chances of copying errors).  We can be over 99% sure that what our New Testament contains is what the authors originally wrote.
Verses 9-20 didn't appear in manuscripts until the fourth century.  Where did it come from?  It's thought that the abrupt ending of verse 8 may have prompted some scribe to suppose that a longer ending had somehow been destroyed.  So he gathered information from the other Gospels and summarized what he thought Mark might have written.  Naturally copyists copying from that copy copied that longer ending.  Hence the explanatory note in our Bibles and my comments on verses 1-8 only.  (This information is provided free and will not be on the test!)
The "empty" narrative.

As noted above, the women didn't find the tomb completely empty.  Here's the story in my words . . .
The sun has just risen on Sunday, the day after Sabbath.  Mary Magdalene, Mary (James' mother) and Salome are on their way to properly anoint Jesus' body with spices (Joseph of Arimathea's didn't have time because he had to bury Jesus Friday before sundown).  They know which tomb because two of them had watched the burial (15:47).  Theirs, of course, is a sad task, and one not without risk, since Jesus had been crucified for treason against Rome and the Jewish Court had judged him a blasphemer.
Not until they neared the tomb did the women wonder who would roll away the huge stone that sealed the entrance.  (A tomb like this was actually a small room cut into the rock with "benches" on three sides where a family's stone coffins—"sarcophagus"—would be laid.)  The "door" was a huge wheel-like stone that fit in a slot that could be rolled open and closed.)  The women approach the tomb and see the stone rolled open.
Cautiously entering, they find a white-robed young man.  (It wasn't empty.)  Naturally they're shocked and frightened.  (Where is Jesus' body?  Who's this guy?)  The man tries to calm them.  He tells them Jesus has risen.  He points: "See the place where they laid him."  He gives them instructions:  "Tell the disciples and Peter  (yes, especially him who denied Christ) Jesus will meet them in Galilee."
The women are literally shaking for fear.  This is a nightmare.  First Jesus is horribly crucified and buried and now maybe an evil enchanter is spinning a cruel tale about dear Jesus' missing corpse.  They run for their lives, saying nothing to anyone.  (THE END)
The take-away.
I feel like the copyist—there should be more.  Why would Mark end the Gospel with scared-to-death women running from Jesus' empty tomb?  Any answer is a guess.  But maybe Mark wants us to feel something of the same fear and amazement those women felt.  Maybe he wants that abrupt ending to sort of  shock us.  Maybe he wants us to stand in awe of the Resurrected Christ who had been the Crucified Christ.
I know I don't.  Too many Easter sermons.  Ho hum.  Risen.  When Jesus stilled the storm with a word, disciples fearfully asked, "Who then is this, that even the wind and sea obey him?" (4:41).   Maybe Mark wants to wake us from mental fog to fearfully ask, "Who then is this, that even his own death obeys him?"
And maybe, even more importantly, he wants me to ask, "Will I, a mere mortal inevitably facing my death, run away from Jesus?  Or,  will I, with unanswered questions about suffering and the death-process and when and why, trustingly run to him?"