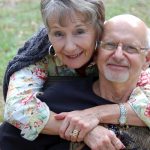 I see a guy shaking his fist toward heaven.  He's angry–picking a fight with God.  Who does this little man think he is?  Paul's words in Romans 9:14-29 hit him like a stomach punch.
 "What then are we to say? Is there injustice on God's part? By no means!" (9:14)
What are we to say to what?  To Paul's argument that God's word hadn't failed, when Israel rejected her long-promised Messiah and was "cut off".  Within national Israel lived true Israel, chosen by God.  And true Israel believed (see Romans 9:1-13).
Well: "Is there injustice on God's part?"  If God chooses, is that unfair to the unchosen?  (See my fist-shaking.)  In Genesis 21:12, Abraham is distressed because Sarah's insisted he send Hagar and his son by her (Ishmael) away.  The LORD says, "Don't be . . . for it is through Isaac that offspring shall be named for you."  Paul cites that incident when explaining "it is not the children of the flesh who are the children of God, but the children of the promise" (9:8) as made to Abraham ("I will make you exceedingly fruitful; and I will make nations of you, and kings shall come from you. I will establish my covenant between me and you, and your offspring after you throughout their generations, for an everlasting covenant, to be God to you and to your offspring after you"—Genesis 17:6,7).
So:  By choosing Isaac over Ishmael, and later Jacob over Esau, by giving none a say in the matter, was God being unfair?
Paul answers emphatically: "may genoito"—"May it never be!" (NSV); "Out of the question!" (NJB).
But why is God choosing not unfair?  Why should some be chosen for God's covenant blessings and others not?  It's imperative to remember Paul's dark description of humanity in 1:18-3:20. We're all under sin.  We've all turned away from God.  None of us seeks God.  We're all Adam's children—condemned sinners (5:12-21).  Therefore, none of us merits anything from God.
Two other truths to remember.  One, God is absolutely holy.  Sin can't be tolerated in his presence.  Two, God is committed to upholding his glory.  His name must be exalted.
With that in mind, read Paul's explanation of why God's choosing isn't unjust . . .
"For he says to Moses, 'I will have mercy on whom I have mercy, and I will have compassion on whom I have compassion. 'So it depends not on human will or exertion, but on God who shows mercy" (9:15,16).
"Mercy" implies no merit.  All are guilty; but the LORD tells Moses, "I will have mercy on whom I have mercy . . . "  In Exodus 33:18, Moses begs the LORD, "Show me your glory . . . "  In 33:19, the LORD replies "I will make all my goodness pass before you, and will proclaim before you the name, 'The LORD', and I will be gracious to whom I will be gracious, and will show mercy to whom I will show mercy."
John Piper explains . . .
"since God's righteousness consists basically in his acting unswervingly for his own glory, and since his glory consists basically in his sovereign freedom in the bestowal and withholding of mercy, there is no unrighteousness with God (Rom. 9:11f.). On the contrary, he must pursue his 'electing purpose' apart from man's 'willing and running,' for only in his sovereign, free bestowal of mercy on whomever he wills is God acting out of a full allegiance to his name and esteem for his glory.".
Not only his words to Moses, but to Pharaoh . . .
"For the scripture says to Pharaoh, 'I have raised you up for the very purpose of showing my power in you, so that my name may be proclaimed in all the earth.'  So then he has mercy on whomever he chooses, and he hardens the heart of whomever he chooses" (9:17,18).
Whoever the Pharaoh was during Moses' days (scholars disagree), the LORD raised him to rule and spared his life through the plagues to display God's power, so the name of the LORD might "be proclaimed in all the earth." 

In verse 18, Paul draws a conclusion  that expands God's choosing beyond Israel to include "whomever"—"he has mercy on whomever he chooses, and he hardens (in unbelief) the heart of whomever he chooses."
A bit troubling? No problem if the Lord chooses Jacob over Esau and hardens Pharaoh's heart.  But "whomever"?  If anyone ("whomever") is to receive God's mercy in Christ, God must first choose him to receive mercy in Christ.  Paul makes this explicit in Ephesians 1:3-6 . . .
"Blessed be the God and Father of our Lord Jesus Christ, who has blessed us in Christ with every spiritual blessing in the heavenly places, just as he chose us in Christ before the foundation of the world to be holy and blameless before him in love. He destined us for adoption as his children through Jesus Christ, according to the good pleasure of his will, to the praise of his glorious grace that he freely bestowed on us in the Beloved."
One view ("Arminianism", early 17th century) argues that God chooses based on his foreknowledge of those who would, of their own free will, believe.
Paul's next words, though, seem to argue for God's sovereign choice . . .
"You will say to me then, 'Why then does he still find fault? For who can resist his will?' But who indeed are you, a human being, to argue with God? Will what is molded say to the one who molds it, 'Why have you made me like this?' Has the potter no right over the clay, to make out of the same lump one object for special use and another for ordinary use?" (9:19-21).
The anticipated objection clearly implies that God makes a man as he wills, not that God foreknows how he will respond, then chooses him accordingly.  However, that raises a real objection—if God leaves some of us in unbelief, how can he blame us for not believing?
Paul replies sharply.  "Who are you . . . to argue with God?" A mere man has no right to criticize God!  Quoting from Isaiah 29:16 and 45:9, Paul says God is like a potter.  No back-talk from a clay lump! The potter can make of it whatever he wants.
"What if God, desiring to show his wrath and to make known his power, has endured with much patience the objects of wrath that are made for destruction; and what if he has done so in order to make known the riches of his glory for the objects of mercy, which he has prepared beforehand for glory — including us whom he has called, not from the Jews only but also from the Gentiles?" (9:22-24).
John Piper comments . . .
"Romans 9:22,23 . . . is probably the closest the Bible ever comes to offering us a justification of the mysterious ways of God with man . . . God tolerated, as it were, a tenfold recalcitrance from Pharaoh and sustained him alive instead of bringing destructive judgment on him right away. He did this even though he himself had hardened Pharaoh and destined him for destruction . . . [This] answers . . . why God sustains and tolerates vessels of wrath.  Evidently, by doing this, God's sovereign power and terrible wrath can be demonstrated even more vividly than if God were to bring down final judgment on vessels of wrath at the very outset of their disobedience. . . .The acts of God come forth . . . from a unified, sovereign purpose.  They cohere to achieve one great end—the magnification of God's great glory for the eternal enjoyment of his chosen people" (The Justification of God, p. 187-189).
This, writes Paul, not only explains God's dealings with Pharaoh, but God's dealings with "the objects of mercy . . . including us whom he has called, not from the Jews only but also from the Gentiles."
Paul now cites two prophets.  Their words reveal God showing mercy to his chosen ones but executing his sentence against others . . .
"As indeed he says in Hosea, 'Those who were not my people I will call "my people," and her who was not beloved I will call "beloved."' And in the very place where it was said to them, 'You are not my people,' there they shall be called children of the living God. And Isaiah cries out concerning Israel, 'Though the number of the children of Israel were like the sand of the sea, only a remnant of them will be saved; for the Lord will execute his sentence on the earth quickly and decisively.' And as Isaiah predicted, "If the Lord of hosts had not left survivors to us, we would have fared like Sodom and been made like Gomorrah'" (9:25-29).
Each prophecy foretells God's mercy.  Mercy on those not God's people.  Mercy on a remnant of Israel, who would otherwise have suffered Sodom and Gomorrah's fate.  Which is Paul's point in this whole passage.  God has mercy on whom he has mercy, because he's committed to glorifying his name by showing mercy on undeserving sinners.
* * *
It's pretty hard to argue against "election" (God choosing to have mercy on whom he wants).  Who God chooses is all part of the mystery of God.  But, instead of debating theology or criticizing God for choosing, let's ask this more pressing, personal question:  "How can I know if I'm chosen or not?
Scripture never answers.  John Piper offers assurance:  "How To Confirm Your Call and Election" (a brief article worth reading)–https://www.desiringgod.org/articles/how-to-confirm-your-call-and-election
Or we can ponder this simple bit of a Puritan prayer in The Valley of Vision . . .
"I need not search to see if I am elect or loved,
for if I turn You will come to me;
Christ has promised me fellowship if I take him,
and the Spirit will pour himself out on me,
abolishing sin and punishment,
assuring me of strength to persevere . . .
I could never have sought my happiness in Your love,
unless You had first loved me.

If we have a heart to go to him, that means he chose and called us first!