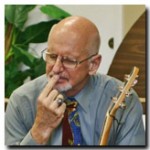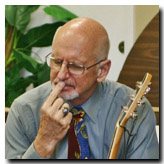 " . . . do not get drunk on wine . . . but be [drunk] with the Spirit."  With tongue in cheek (I think), John Piper says that's what Paul meant in Ephesians 5:18.  Drunk instead of filled.  Peter faces the same mix-up.  When they hear the believers " . . .  speak in other tongues" (2:4),  some in the crowd mock, "They are filled with new wine" (2:13). Here's Peter's "sermon" response . . . 

Too Early to Be Drunk.
Then Peter stood up with the Eleven, raised his voice and addressed the crowd: "Fellow Jews and all of you who live in Jerusalem, let me explain this to you; listen carefully to what I say.  These men are not drunk, as you suppose. It's only nine in the morning!" (2:14,15a).
An odd answer.  What would he have said if it was 6 p.m?  Whatever, Peter quickly moves on to his . . .
Sermon Text.
No, this is what was spoken by the prophet Joel:  "'In the last days, God says, I will pour out my Spirit on all people. Your sons and daughters will prophesy, your young men will see visions, your old men will dream dreams.  Even on my servants, both men and women, I will pour out my Spirit in those days, and they will prophesy.  I will show wonders in the heaven above and signs on the earth below, blood and fire and billows of smoke.  The sun will be turned to darkness and the moon to blood before the coming of the great and glorious day of the Lord.  And everyone who calls on the name of the Lord will be saved'" (2:15b-21).
This "telling the mighty works of God" (2:11) in different languages, Peter explains, is God's fulfillment of that prophecy.  There are four primary points to see . . .
First, since Peter was preaching around  30 A.D., "the last days" began at least about that time—and we are living in them today.  Chronologically divide history however you wish; these are the end of days.  I know, mockers scoff:  "Life goes on as always" (2 Peter 3:3).  But we're in the closing chapter of this world's time.
Second, these last days are marked by the pouring-out of the Holy Spirit.  The Lord is empowering his people to bear witness of him "in Jerusalem and in all Judea and Samaria, and to the end of the earth" (1:8).  This is no time to quench the Spirit (1 Thessalonians 5:19, NRS) with doctrine that disallows the gifts of the Spirit!  This is time to "pray that out of his glorious riches he may strengthen [us] with power through his Spirit in [our] inner being (Ephesians 3:16).
Third, these last days are marked by universal chaos.  Joel prophesied it (Joel 2:1-11).  And whatever else these signs may mean—"blood, fire, billows of smoke", darkened sun, blood moon—they spell chaos on earth.  Sounds eerily like today's news.
Fourth, these last days climax in "the day of the Lord"-—a day of final judgment for unbelievers, but for "everyone who calls on the name of the Lord" a day of glorious, eternal salvation!
Jesus Lord and Christ.
The Spirit always points to Jesus. He does that through Peter here.  Note these highlights about Jesus as you read Peter's sermon below.
God certified Jesus by miracles, wonders and signs
According to God's purpose, they put Jesus to death
God raised Jesus from the dead according to David's prophetic words
God exalted Jesus to his right hand in heaven
Jesus received the Holy Spirit from the Father and poured him out
God has made Jesus both Lord (Yahweh) and Christ (Messiah, Anointed One).
"Men of Israel, listen to this: Jesus of Nazareth was a man accredited by God to you by miracles, wonders and signs, which God did among you through him, as you yourselves know.  This man was handed over to you by God's set purpose and foreknowledge; and you, with the help of wicked men, put him to death by nailing him to the cross.  But God raised him from the dead, freeing him from the agony of death, because it was impossible for death to keep its hold on him.  David said about him:  'I saw the Lord always before me. Because he is at my right hand, I will not be shaken.  Therefore my heart is glad and my tongue rejoices; my body also will live in hope,  because you will not abandon me to the grave, nor will you let your Holy One see decay. You have made known to me the paths of life; you will fill me with joy in your presence.'  Brothers, I can tell you confidently that the patriarch David died and was buried, and his tomb is here to this day.  But he was a prophet and knew that God had promised him on oath that he would place one of his descendants on his throne.  Seeing what was ahead, he spoke of the resurrection of the Christ, that he was not abandoned to the grave, nor did his body see decay.  God has raised this Jesus to life, and we are all witnesses of the fact .  Exalted to the right hand of God, he has received from the Father the promised Holy Spirit and has poured out what you now see and hear.  For David did not ascend to heaven, and yet he said, 'The Lord said to my Lord: "Sit at my right hand  until I make your enemies a footstool for your feet.'  Therefore let all Israel be assured of this: God has made this Jesus, whom you crucified, both Lord and Christ" (2:22-36).

What Every Preacher Would Love.
When the people heard this, they were cut to the heart and said to Peter and the other apostles, "Brothers, what shall we do?"  Peter replied, "Repent and be baptized, every one of you, in the name of Jesus Christ for the forgiveness of your sins. And you will receive the gift of the Holy Spirit.  The promise is for you and your children and for all who are far off– for all whom the Lord our God will call."  With many other words he warned them; and he pleaded with them, "Save yourselves from this corrupt generation."  Those who accepted his message were baptized, and about three thousand were added to their number that day (2:37-41).

In four decades of preaching, never once did a congregation ask what this crowd did.  Yet even without the asking, this what we must do:  "Repent and be baptized . . . in the name of Jesus Christ for the forgiveness of [our] sins."  "Repent" means we change our mind about who we thought Jesus is to who he really is.  And we live that repentance out by being baptized in his name and by obeying his commands in this "corrupt generation."
Peter promises that those who do "will receive the gift of the Holy Spirit."  He will come to live in us.  There will be times when he sweeps us up and overwhelms us with his powerful and loving presence.  He will progressively transform us into Christ's likeness. And he will make us his witnesses to this corrupt generation.
Exalted Lord Jesus Christ,
the believers that day weren't drunk on wine as the crowd supposed.
They were drunk with the Holy Spirit.
You have received the Spirit from the Father.
Please pour him out again on us,
that we may be empowered to prophetically speak your Good News,
and that many may repent and be added to our number.
For the fame of your name I pray.  Amen.