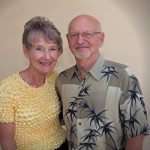 Today the majority of the world's Christians live in South America, Africa, and Asia,   Nowhere is this global shift from the north and west more stunning than in Africa.  In 1900, less than 10% of Africans were Christians; today more than 50% are.  With this southward and eastward shift come changes.  For example, generally theology is more conservative and worship style more charismatic. The shift raises questions, too.  What is the role of ancestors in Christianity?  Can indigenous music be used in worship?  What about exorcising demons and ecstatic worship experiences?  (Source:
http://blogs.bu.edu/dscott/2011/04/27/the-southward-shift-in-christianity/),
And since communications have made the world "smaller", what effect might this shift have on the shrinking church in Europe and the leveled-off church in America?
In 48 A.D. (15-18 years after Christ's resurrection), the church faced a critical theological dispute due to the demographic shift of the church from entirely Jewish to mostly Gentile . . .
The Dispute.
From their missions trip, Paul and Barnabas had returned to the Antioch, Syria church.  There "they declared all that God had done with them, and how he had opened the door of faith to the Gentiles" (Acts 14:27). Then " . . . some men came down from Judea and were teaching the brothers, 'Unless you are circumcised according to the custom of Moses, you cannot be saved'" (Acts 15:1).  At that, "Paul and Barnabas had no small dissension and debate with them" (Acts 15:2).  Unable to resolve the matter, the church appointed Paul and Barnabas and others to consult with the apostles and elders in Jerusalem.
The Danger.
For Paul, adding circumcision to faith in Christ was no small thing.  Circumcision signified one was taking on the obligation to keep the Mosaic (Old Testament) Law.  Here's how Paul warned the Galatians (the people to whom he and Barnabas had just brought the gospel in Pisidian, Antioch, Iconium, Lystra and Derbe).   "Look:  I, Paul, say to you that if you accept circumcision, Christ will be of no advantage to you.  I testify again to every man who accepts circumcision that he is obligated to keep the whole law.  You are severed from Christ, you who would be justified by the law; you have fallen away from grace" (Galatians 5:2-4).
Earlier he had argued for justification by faith like this.   "Now it is evident that no one is justified before God by the law, for 'The righteous shall live by faith' (from Habakkuk 2:4) . . . Christ redeemed us from the curse of the law by becoming a curse for us–for it is written, 'Cursed is everyone who is hanged on a tree' –so that in Christ Jesus the blessing of Abraham might come to the Gentiles, so that we might receive the promised Spirit through faith" (Galatians 3:11-14).
The danger, then, was the loss of the very heart of the Gospel–the loss of Christ himself as the way to justification (not guilty before God for one's sin; being declared right with God) which comes through faith.
The Debate.
At the Council in Jerusalem the Christian Pharisees stated their position:  "The Gentiles must be circumcised and required to obey the law of Moses" (Acts 15:5).  Peter explained the apostles' view, illustrated by his own experience with Cornelius (Acts 10). "Brothers, you know that some time ago God made a choice among you that the Gentiles might hear from my lips the message of the gospel and believe. God, who knows the heart, showed that he accepted them by giving the Holy Spirit to them, just as he did to us.  He made no distinction between us and them, for he purified their hearts by faith.  Now then, why do you try to test God by putting on the necks of the disciples a yoke that neither we nor our fathers have been able to bear?  No! We believe it is through the grace of our Lord Jesus that we are saved, just as they are" (Acts 15: 7-11).
When God gave Cornelius' Gentile household the Holy Spirit, that signified he "made no distinction between" Gentiles and Jews.  Peter's conclusion:  if the church now yoked Gentiles with the Jewish law they would be testing God.  Salvation for Jew and Gentile comes through the grace of the Lord Jesus and is received by faith alone!
The Decision.
Finally James, Jesus' half-brother, chief elder and chair of the meeting, gave his conclusion.  "Brothers, listen to me.  Simon has described to us how God at first showed his concern by taking from the Gentiles a people for himself.  The words of the prophets are in agreement with this, as it is written:  'After this I will return and rebuild David's fallen tent. Its ruins I will rebuild, and I will restore it,  that the remnant of men may seek the Lord, and all the Gentiles who bear my name, says the Lord, who does these things that have been known for ages.'  It is my judgment, therefore, that we should not make it difficult for the Gentiles who are turning to God.  Instead we should write to them, telling them to abstain from food polluted by idols, from sexual immorality, from the meat of strangled animals and from blood.  For Moses has been preached in every city from the earliest times and is read in the synagogues on every Sabbath" (Acts 15:13-21).
James understood Peter's experience with Cornelius was a major event in God's saving work. He referred to it as God "taking from the Gentiles a people for himself", as God had done with Israel (Exodus 19:5).  He asserted that this Gentile inclusion fulfilled Amos' prophecy from the Lord . . .
"After this I will return and rebuild David's fallen tent.
Its ruins I will rebuild, and I will restore it,
that the remnant of men may seek the Lord,
and all the Gentiles who bear my name,
says the Lord, who does these things,
that have been known for ages."
(Acts 15:16.17)
According to James, "David's tent" refers to Israel restored through Jesus Christ, so that God might begin his mission to the Gentiles through them.  Jews and Gentiles, without surrendering their ethnicity, become God's one people through faith in Jesus Christ.  This has been God's plan all along.
"Gather together and come; assemble,
you fugitives from the nations.
Ignorant are those who carry about idols of wood,
who pray to gods that cannot save.
Declare what is to be, present it–
let them take counsel together.
Who foretold this long ago,
who declared it from the distant past?
Was it not I, the LORD?
And there is no God apart from me,
a righteous God and a Savior;
there is none but me.
Turn to me and be saved, all you ends of the earth;
for I am God, and there is no other.
By myself I have sworn,
my mouth has uttered in all integrity
a word that will not be revoked:
Before me every knee will bow; by me every tongue will swear."
((Isaiah 45:20-23))
James also calls for four"abstentions" from the Gentile believers.  Three ("abstain from things polluted by idols . . . and from what has been strangled and from blood") are intended to promote meal-fellowship between Gentile converts and Jewish Christians with their dietary laws.  The fourth ("abstain from sexual immorality") addresses Jewish concerns about Gentile low ethical and moral standards.  But no surrender of their freedom in Christ is even implied.  Rather, these two ethnic groups as one people are to serve one another in love (Galatians 5:13).

The Delivery.
James has the last word.  With that historical decision made, some men from the Jerusalem church are chosen to join Paul and Barnabas to communicate the council's decision to Antioch.  When the people there received the letter they were "glad for its encouraging message" (Acts 15:31).  The visitors from Jerusalem eventually returned home.  "But Paul and Barnabas remained in Antioch, where they and many others taught and preached the word of the Lord" (Acts 15:36).
The Doctrine.
Salvation comes by grace alone through faith alone!  The Jerusalem Council "wrote that in stone" and today we must stand resolutely on it.  That doctrine is to die for.  We've got to fight for it against every ideology and erroneous theology that would allow us to add even the feeblest of our own efforts to God's saving work finished in Christ.  That is the Good News!
However, not all issues carry that weight.  In the years that lie ahead, we can expect positions and practices from the churches in the Global South to influence us.  How we respond will call for divine discernment, not because those influences will be inherently wrong, but because they will be ethnically different.  A few we may reject, deeming them contrary to God's Word.  Most, hopefully, we'll accept, even if they are different, because we count them as enriching the one Body of Christ—and because God in Christ is calling people for the glory of his name "from every tribe and language and people and nation" (Revelation 5:9).
But whatever changes may come,
this refrain we must never change:
"Nothing in my hand I bring; simply to Thy cross I cling."