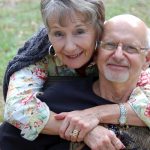 The woman lugged her empty water jar to the well, as the relentless noonday Samaritan sun beat down on her.  Her heart was as empty as her jar.  A line of five former husbands crowded her mind.  No matter who was at fault.  Each marriage ended.  And the man she now had promised no happier ending.
Noon was the hottest part of the day to fetch water.  But it protected her from the wagging tongues of the town's women.  So she came when they wouldn't.
She, a Samaritan, was surprised to find a weary Jew at the well.
"Will you give me a drink?"
Even more surprising that a Jew would ask a favor of a Samaritan. For Jews didn't associate with Samaritans.
"How can you ask me for a drink?"
"If you knew the gift of God, and who it is who asks you for a drink, you would have asked him, and he would have given you living water."
She wondered aloud how he could draw water from the deep well.  From where he would get this "living water", if he thought himself greater than father Jacob who gave them this well.
"Every one who drinks this water will be thirsty again, but whoever drinks the water I give him will never thirst.  Indeed, the water I give him will become in him a spring of water welling up into eternal life."
She wanted this water.  Forever-thirst-quenching-water meant no more struggling, stealthy trips to the well.
"Go, call your husband and come back."
His command perplexed her.  She hesitated.  Then claimed to have no husband.
Shockingly, the weary Jew peered down the sad years of her life and agreed.  She'd had five husbands and her current man wasn't her husband.
"Sir, I perceive you are a prophet.  Our fathers worshiped on this mountain, but you Jews claim we must worship in Jerusalem."
"Believe me, woman, a time is coming when you will worship the Father neither on this mountain nor in Jerusalem . . . a time is coming and now is when true worshipers will worship in Spirit and in truth, for they are the kind of worshipers the Father seeks."
"I know that Messiah is coming.  When he does, he will explain everything to us."
"I who speak to you am he."
* * *
I read that encounter in my devotions this morning.  "I who speak to you am he" stopped me in my tracks.
I'd read it dozens of times.  From verse 1 I knew what the Samaritan women didn't—that the weary Jew who met her was the Messiah.  It no longer startled me that he was weary and dusty.  No longer startled me that he had arranged to travel through Samaria at noon and sent his disciples away for food.  No longer startled me that he chose to give his most profound teaching on worship to a sad, sinful, Samaritan woman under a hot noon sun.
This is what startled me: "I who speak to you am he."
For this is whose words I was reading.  This was who I was praying to.  This was whose presence I was seeking.  This was the One whom the prophets had promised.  This was God's "Yes" and "Amen"—the One who will fulfill everything God had promised.
"I who speak to you am he."
It struck me how easily and often I forget.  I sit before him as if he were . . . well, I don't know what.  Someone less.  Imaginary almost.
The One whose words I "hear" on the sacred page, the One whose presence I seek to enjoy, the One to whom I make my familiar petitions—is Messiah.
Do I even realize the miracle?  The majesty?  The marvel?  The wonderful mystery?
As I've said before, my prayers inevitably are, "Heal me."  The plea is a frustrated, weary, faith mixed with tiny expectation.  "Heal me; but I'll be surprised (wonderfully) if you do."  (I'm not crass enough to say that; but the words hide in my heart.)
"I who speak to you am he."
The Samaritan woman never asked the Messiah-claiming Jew for anything.  So excited over him, she ran to tell the town's women (from whom she had hidden) whom she had found.
"Jesus, Messiah.  Catch me up today in the wonder of who you are who speaks to me.  Who seeks me out in my emptiness.  Who comes to me.  Who offers me living water—a well springing up to eternal life.  Reignite my excitement in you.  Renew my wonder over you.  Open my ears to hear you say to me:  "I who speak to you am he."