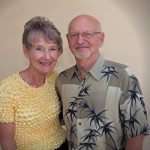 Last week, on the web site Linkedin, I found a friend from New Jersey Lois and I haven't seen for 25 years.  Being the technical wizard I am, I don't know what I did.  But suddenly, there she was!
Eileen.  She was a member of the New Jersey church we planted in 1973.  She served as director of our weekday nursery and child care program.  She babysat our three young children.  For a while, she even lived with us.  She wasn't only Lois' and my friend, she was our family friend.  Lois phoned her a few nights ago.  They talked and talked—many calendars of years to catch up on!  They plan to do it monthly.  The other night I mentioned to Lois:  "I feel like we've found a long-lost daughter!"  She agreed.  Eileen was a very special young lady to all us Babcocks.
Memories.  With Eileen's face and catch-up news came reams of memories.  Getting on in years as they say, I can't recount all the memories or even recall specifically which ones she was part of and which she wasn't.  Here are a few I remember from that time in our lives . . .
Our house on Fairfield St.  When we first moved to Montciair, N.J. to plant a church we rented a house on Watchung Ave.  Later our planted church bought a lovely home on Fairfield St.  That's where Eileen lived with us on our third floor.
The Living Church.  "In (the Word) was life" (John 1:4a).  So that's what we named our church.  (It was alive with the life of Christ!)  Eileen played the piano for us occasionally.  (Am I remembering that right, Eileen?)  She served as director of our weekday nursery and child care center.  That's where (among every other place she was) Eileen's servant's heart showed through.
Snow.  I miss it.  But imagine me walking in snow!  I have enough trouble staying upright on a level floor!  Anyway, I remember one Christmas Eve service we left the church building and found ourselves walking around the corner to our house in beautiful falling snow.  It was, in C.S. Lewis' meaning of the word, magical. (Eileen, were you living with us then?)  I remember "snow days" when our three children had no school.  I remember snowmen and snowball fights and snow angels (and shoveling).
Swimming pool.  We had an above-the-ground one in our backyard where we had great family fun and where we rejoiced in the Lord when we baptized many young (and a few older) people.
Mills Reservation.  That was a kind of wilderness park on the "heights" of Montclair where our family went for walks some Sunday afternoons.  From a certain spot the trees opened up to a grand view of Manhattan Island.  It was a fun, out-of-the-way place.
Edgemont Park.  A few blocks from our house, this park had a big, shallow pond that often froze in the winter.  It was our favorite ice skating spot.
Our babysitter.  I have no idea how many times we left our precious young children in Eileen's care.  But never did we do it with anxiety.  I think she loved them as much as we did.
If I really worked at it, I could get this rusty old mind to recall more memories.  But they're like baby pictures to you, aren't they.  You're probably remembering you have to schedule your root canal—and you certainly wouldn't want to miss that!  Wait!  Don't go.  I'll turn off the good old days—and briefly turn on why I'm writing about this.
God is big on memories.  He commanded the Israelites to "Remember the Sabbath day, to keep it holy . . . For in six days the LORD made heaven and earth, the sea and all that is in them, and rested on the seventh day.  Therefore the LORD blessed the Sabbath day and made it holy (Exodus 20:8-11).  The Sabbath was to be set apart, not only so the people could rest, but so they would regularly remember that the LORD had created everything they saw and enjoyed.
God commanded the Israeltes to "Take twelve men . . . [one] from each tribe a man . . . saying, 'Take twelve stones from here out of the midst of the Jordan, from the very place where the priests' feet stood firmly, and bring them over with you and lay them down in the places where you lodge tonight'" (Joshua 4:3).  "When your children ask their fathers in times to come, 'What do these stones mean?' then you shall let your children know, 'Israel passed over this Jordan (into the Promised Land) on dry ground'" (Joshua 4:21,22).  The Lord wanted generations to hold memories of what the Lord had done in that place.
The apostle Paul recalled Jesus' command:  "This is my body which is for you.  Do this in remembrance of me" . . . "This cup is the new covenant in my blood.  Do this, as often as you drink it, in remembrance of me" (1 Corinthians 11:24,25).  Above all, Jesus wanted his followers to remember his death by which he  established the new covenant between the Father and us who believe.
God is big on memories, because they are opportunities to recall his acts of grace and power.  So as I remember those days with Eileen and our family decades ago, I recall God's gifts of grace.  How he gave us a beautiful home in which to live.  An exciting, challenging church to pastor.  The beauty and fun of snow and a swimming pool.  The adventure of hiking and catching a bird's eye view of New York City.  Ice skating with frosty noses and fingers.  And a young lady who showed our whole family Jesus' servant love in everything she did.
 How about your old friends and memories of God's grace to you?