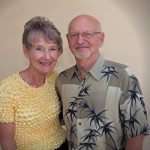 Aberration:  "a departure from what is normal."  Synonyms—"divergence, abnormality, rogue."  Now–the time in which we live–is an aberration.
Compare these two passages of Scripture . . .
"In the beginning God created  the heavens and the earth . . .
And God saw everything that he had made,
and behold, it was very good."
(Genesis 1:1,31)
. . . a new heaven and a new earth,
for the first heaven and the first earth had passed away,
and there was no longer any sea. 
I saw the Holy City, the new Jerusalem,
coming down out of heaven from God,
prepared as a bride beautifully dressed for her husband. 
And I heard a loud voice from the throne saying,
"Now the dwelling of God is with men, and he will live with them.
They will be his people, and God himself will be with them and be their God. 
He will wipe every tear from their eyes. There will be no more death
or mourning or crying or pain, for the old order of things has passed away." 
He who was seated on the throne said, "I am making everything new!"
(Revelation 21:1-5a)
In the beginning God saw everything he had made and appraised it as being "very good".  The apostle John was given to see a new heaven and earth which will have no tears, death, mourning, crying or pain.  The present "order of things" is "old" and will pass away.  Implication:  the new order will not pass away.  Thus there was a time when this creation was "very good" and there will be eternity when the new, never-passing-away creation will come. Implication:  now–this present world order–is an aberration.
Take two other texts . . .
Therefore we do not lose heart.
Though outwardly we are wasting away,
yet inwardly we are being renewed day by day.
For our light and momentary troubles
are achieving for us an eternal glory
that far outweighs them all.
So we fix our eyes not on what is seen,
but on what is unseen.
For what is seen is temporary,
but what is unseen is eternal.
(2 Corinthians 4:16-18)
I consider that our present sufferings are not worth comparing
with the glory that will be revealed in us.
The creation waits in eager expectation for the sons of God to be revealed. 
For the creation was subjected to frustration, not by its own choice,
but by the will of the one who subjected it,
in hope that the creation itself will be liberated from its bondage to decay
and brought into the glorious freedom of the children of God.
We know that the whole creation has been groaning
as in the pains of childbirth right up to the present time. 
Not only so, but we ourselves, who have the firstfruits of the Spirit,
groan inwardly as we wait eagerly for our adoption as sons,
the redemption of our bodies.
(Romans 8:18-23)
According to the 2 Corinthians text what we see is temporary, a time of "momentary troubles".  Whereas what is unseen is eternal, an eternal glory wonder.  In the Romans text Paul writes of "present suffering" in which "the creation [has been] subjected to frustration" (or, futility) and has been "groaning as in the pains of childbirth".  What is coming is incomparable "glory", the "redemption of our bodies" and "the sons of God [being] revealed.  With that, "the creation itself will be liberated from its bondage to decay and brought into the glorious freedom of the children of God."  When Paul writes that present sufferings and troubles are "momentary", he's contrasting them with redeemed bodies in a liberated creation all of which will be as lasting as our "adoption as sons".  Since the new creation will be filled with eternal glory and the present is filled temporary sufferings, the present order is an aberration–a departure from the normal–of what God intends.
Why this long aberration?  Genesis 3.  In the paradise of Eden our first parents fell for the devil's lie, fell from the grace of trusting and obeying God, and fell into sin and death.  Ever since, humans have refused to honor God or give thanks to him.  We became futile in our thinking and darkened in our foolish hearts.  We exchanged the eternal Creator's glory for images of created things.  Thus God has given us over to the depravity we crave (Romans 1:18-32).
 . . . but God shows his love for us
in that while we were still sinners,
Christ died for us
(Romans 5:8).
Therefore, if anyone is in Christ, he is a new creation;
the old has gone, the new has come!
(2 Corinthians 5:17)
The "new" has come in us who are connected to Christ by faith!  Still we live in this sin- and- death-dominated world in unredeemed bodies.  But soon Christ will come again.  And with him, the restoration of all things.  So we can say . . .
. . . in keeping with his promise we are looking forward to
a new heaven and a new earth, the home of righteousness.
(2 Peter 3:13)
Meanwhile, we live in "the aberration of now"–a comparatively brief time of troubles that will one day be swallowed up by the weight of eternal glory in the new creation.
I write "the aberration of now" for two reasons.  One, to correct the idea that our eternity will consist of fluffy white clouds on which we–disembodied spirits–will play in an all-harp praise band for an unending worship service.  When we die, we go to be with Christ (2 Corinthians 5:8); but when Christ comes, heaven comes to a new earth forever.
Two, to stop thinking that this world is home.  I naturally sense it is.  It's all I've known for 72 years.  The new creation is an unknown, except for the strange symbolic language of Revelation 21 and 22.  A river running through the New Jerusalem with fruit trees bordering both sides, though,  just doesn't get my juices flowing, you know?  I wish the Bible had a photo section  of the new earth!  I'd be more excited about going there.
Nevertheless, God's Word urges us to "fix [our] eyes on what is unseen" and to "wait eagerly for . . . the redemption of our bodies" and to "[look] forward to a new heaven and a new earth."  One thing helps me do that:  to remember this world is a brief aberration.  It's a departure from what is normal, a divergence, an abnormality, a rogue world controlled by the evil one (1 John 5:19).  Together with all of you in Christ, I'm on my way to a better country (Hebrews 11:16).
"At present we are on the outside of [that] world, the wrong side of the door . . . But all the leaves of the New Testament are rustling with the rumour that it will not always be so. Some day, God willing, we shall get in."
― C.S. Lewis, The Weight of Glory