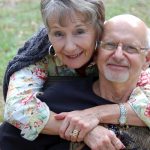 Jesus cried, "My God, my God, why have you forsaken me?" (Matthew 27:46).  It looked to the cross-bystanders that God had forsaken him.  Maybe so, but things are not as they seem.
Jesus (unrecognizable) approached disciples on Emmaus Road and asked what things they were discussing.  They replied . . .
"The things about Jesus of Nazareth, who was a prophet mighty in deed and word before God and all the people, and how our chief priests and leaders handed him over to be condemned to death and crucified him. But we had hoped that he was the one to redeem Israel. Yes, and besides all this, it is now the third day since these things took place. Moreover, some women of our group astounded us. They were at the tomb early this morning, and when they did not find his body there, they came back and told us that they had indeed seen a vision of angels who said that he was alive. Some of those who were with us went to the tomb and found it just as the women had said; but they did not see him."  Then he said to them, "Oh, how foolish you are, and how slow of heart to believe all that the prophets have declared!  Was it not necessary that the Messiah should suffer these things and then enter into his glory?"" (Luke 24:19-26).
They had hoped he was the one to redeem Israel. But he was crucified, buried.  Now his body was missing.  Hope in him had died with him.   But things are not as they seem.
He had said, "Because I live, you also will live" (John 14:19).  He promised, " . . . whoever believes in me will never die" (John 11:26).  The Jews exclaimed to him, "Now we know that you are demon-possessed! Abraham died and so did the prophets, yet you say that if anyone keeps your word, he will never taste death" (John 8:52).  Yet we do suffer and die and our body is buried.  But things are not as they seem.
He ascended into heaven with this promise echoing in disciples' ears: "I will come back and take you to be with me that you also may be where I am" (John 14:3).  But 2000 years have slipped by.  The world grinds on as always.  We wonder if he'll ever come for us.  But things are not as they seem.
Yesterday we celebrated Christ's resurrection.  Triumphant gatherings all over the world.  "Holy parties" rejoicing in Christ conquering death.
But now, Easter Sunday 2017 is history.  Instruments have been closed or cased.  Microphones have gone silent.  Resurrection songs won't be sung for another year.  Back to work.  To school.  To paying bills.  Enduring illness.  Coping with tragedy, too.
The week after Easter, it looks for all the world that it had never come.  This is reality.  The workaday world.  Weekends of chores.  And worship gatherings.  But we sing a little less triumphantly.  We cringe as suffering and death holds the upper hand.  We walk with a bit less confidence–the tread of the battle-worn, not the tread of the triumphant.  Silently, we wish for Easter year round, not just one of 365.
But things are not as they seem.
I played the trumpet in our high school orchestra.  Occasionally, we performed a concert.  Rehearsals filled the days leading up to the big event.  The nearer the date, the more disciplined the practice.  Then came the "dress rehearsal".  We were to take our seats, adopt a serious demeanor, and hold and play our instruments as if this was "the real thing".
Easter Sunday is like that. Oh, we're celebrating "for real".  That triumphant worship was indeed an end in itself.  To worship the risen Christ on such a gloriously victorious note has great value.  But things are not as they seem.
When we gathered yesterday, we weren't just a community of Christians celebrating Christ conquering the grave.  At the same time, we were worshipers rehearsing for the concert, for the big day when death will be swallowed up in victory.  Last Sunday we weren't just looking back to an empty grave.  We were looking forward to globally empty graves.
"Listen, I will tell you a mystery! We will not all die, but we will all be changed, in a moment, in the twinkling of an eye, at the last trumpet. For the trumpet will sound, and the dead will be raised imperishable, and we will be changed.  For this perishable body must put on imperishability, and this mortal body must put on immortality.  When this perishable body puts on imperishability, and this mortal body puts on immortality, then the saying that is written will be fulfilled: "Death has been swallowed up in victory."  "Where, O death, is your victory? Where, O death, is your sting?"  The sting of death is sin, and the power of sin is the law.  But thanks be to God, who gives us the victory through our Lord Jesus Christ.  Therefore, my beloved, be steadfast, immovable, always excelling in the work of the Lord, because you know that in the Lord your labor is not in vain
(1 Corinthians 15:50-58).

Things are not as they seem . . . for now.