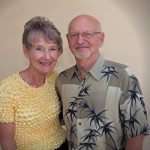 If I called this "The Apostles Solve a Food Distribution Problem" you'd probably prefer reading the phone book.  Admittedly,  "War" stretches the  conflict a bit, but there was grumbling and complaining and division.  Let's read Luke's account . . .
Now during those days, when the disciples were increasing in number, the Hellenists complained against the Hebrews because their widows were being neglected in the daily distribution of food.  And the twelve called together the whole community of the disciples and said, "It is not right that we should neglect the word of God in order to wait on tables.  Therefore, friends, select from among yourselves seven men of good standing, full of the Spirit and of wisdom, whom we may appoint to this task, while we, for our part, will devote ourselves to prayer and to serving the word."  What they said pleased the whole community, and they chose Stephen, a man full of faith and the Holy Spirit, together with Philip, Prochorus, Nicanor, Timon, Parmenas, and Nicolaus, a proselyte of Antioch.  They had these men stand before the apostles, who prayed and laid their hands on them. (And) The word of God continued to spread; the number of the disciples increased greatly in Jerusalem, and a great many of the priests became obedient to the faith (Acts 6:1-7, NRS).
Why did the Holy Spirit lead author Luke to write about this 'War of Women'?"  I find four reasons . . .
First, to report that the church continued to grow in numbers despite internal conflict.
Luke begins and ends this text noting  the church's growth . . .
Now during those days, when the disciples were increasing in number . . .  (6:1a)
The word of God continued to spread;
the number of disciples increased greatly in Jerusalem,
and a great many of the priests became obedient to the faith (6:7).

Previously  Luke gave a running account of church growth  . . .
Those who accepted his message were baptized,
and about three thousand were added to their number that day. (2:41),
And the Lord added to their number daily those who were being saved  (2:47).
But many who heard the message believed,
and the number of men grew to about five thousand (4:4).
Nevertheless, more and more men and women believed in the Lord
and were added to their number. (5:14).
The U.S. account is different.  A recent Pew Research study reveals that from 2007 to 2014 the percentage of Americans who claim to be Protestant Christians declined from 78.4.% to 70.6%.  The percentage of Catholics declined from 23.9% to 20.8%.  Orthodox Christians remained about the same:  0.6% to 0.5%.
According to the Atlas of Global Christianity, in 1910 Europe was 90% Christian; in 2010 Europe was less than 84% Christian.  Better news:  in 1910 Asia was 2.4% Christian; in 2010 Asia was about 9% Christian.  And  in 1910  Africa was 9.4% Christian, while in 2010 Africa was 48% Christian.  We can interpret these statistics differently, but one thing is clear:  the church can't be extinguished, and in some unlikely places the church is thriving.
It was in Jerusalem.  It must have been exhilarating.  But with growth came internal conflict.
Second, Luke wrote this to show us that the Gospel unites when cultures clash.
Hellenists or Grecian Jews were from  outside Israel.  They spoke Greek and  had adopted some of that  culture.  Their widows were being overlooked in the daily food distribution.  Hebrew Jews were born in Israel.  They spoke Aramaic and held to Jewish culture.  Their widows were well fed  widows.
When the apostles learned of the conflict, they gathered the believers and had them select seven men to administer food distribution.  But they had to be "men of good standing, full of the Spirit and of wisdom." In other words, they were to be men known among the church as Spirit- and wisdom-filled.   To say it another way, they had to be men regenerated by the Spirit and being sanctified by the Spirit.   Such men who embody the Gospel draw people together in unity.  This is why I say the Gospel unites when cultures clash.
Third, to provide a model for church leadership.
The model is simple.  When the church spread into Gentile lands, the model remained.  The apostles appointed pastors/elders to pray and serve the Word, while deacons were chosen to serve other church needs.  However, for both spiritual qualifications remained paramount (see 1 Timothy 3:1-13).
The model remains today.  The pastor/elder should prayerfully serve the Word to the people.  The congregation's needs make that difficult.  But this is the pastor's/elder's calling.  Once Lois and I visited a church of thousands, where the pastor largely directed the Sunday "production"; it showed in his poor preaching.
Deacons should be responsible for other areas of ministry.  Even if they are food-distributors, they should be spiritually qualified.  In fact, I believe this model applies to worship team members, Sunday school teachers, etc.  They should be selected primarily because they are known to be being-sanctified-by-the-Spirit followers of Jesus.
Fourth, to teach us the importance of the church caring for her poor.
As far as I can tell, the Roman Empire had no welfare system.  The poor were largely on their own—but not among the Christians.  From the beginning, the church took care of her poor, particularly widows.  In this case, " . . . as many as were owners of lands or houses sold them and brought the proceeds of what was sold and laid it at the apostles' feet, and it was distributed to each as any had need" (4:34,35).  That distribution as we've seen, included daily meals.
Today government programs help the poor.  But often not enough.  To love one another as Jesus loved us surely includes being sure our poor are cared for.
* * * *
What should we do with these four reasons for the inclusion of this incident in Acts?  Most of us are in no position to direct what happens in our church.  But we can pray . . .
Lord Jesus, the church you birthed is triumphant,
even in places where she seems weak and is struggling!
The church is triumphant because you are
and, for the sake of your name, you will never let your people lose.
Cause that truth to lift our depressed heart.
Where there is disunity among us, Lord,
root your gospel deep in our minds and hearts
until it brings us together as one in your transforming love.
Give us pastors and elders
who will prayerfully devote themselves to your Word
and others who are spiritually qualified to serve.
And may we who have much
remember the needs of the poor
as you yourself did.
We ask all this for the fame of your name
and the good of the people for whom you died.
Amen.